Overstay
An Overstay is when a nonimmigrant visitor enters the U.S. legally, but stays in the United States more than the authorized admission period given by a U.S. Customs and Border Protection (CBP) officer.
Note that the authorized period of stay is not the same as the visa validity time. The authorized period of stay is stamped in the passport and can also be found on the Arrival-Departure Record (Form I-94). It can be a fixed period (i.e., authorized admission period for B1/B2 tourist visas are normally 6 months from the date of entry); or a duration of status (stamps as D/S on passport) which means you may remain in the United States so long as you maintain your certain status, such as a student visa.
Overstay and Out of Status
There are few activities that may cause a nonimmigrant to be considered out of status. Overstaying a visa is the most common one. When you are overstaying your visa, you are out of status. Even when you are not overstaying, there are certain activities causing you to be considered out of status. Such activities normally involve violating terms for lawful status as defined by your visa type. For example, unauthorized employment, or an F-1 or M-1 student failing to enroll in a required class or failing to attend class.
Overstay and Unlawful Presence
Unlawful presence accrues when you overstay your visa in most situations with few exceptions. An overstay won't stop you from applying immigrant benefits (i.e. applying for adjustment of status) in the future or subject to bars to admissibility in the following situations:
You overstayed a visa under the age of 18
You have a pending adjustment of status or a asylum application
You have protection under the Family Unity program
You are a battered spouse or child who can demonstrate a connection between the status violation and the abuse
Consequences of Overstaying
The Department of Homeland Security (DHS) has been paying more attention on the overstay rate over the years. Overstaying a nonimmigrant visa can lead to different kind of consequences based on the time of your overstay. The consequences include:
Existing visa may be revoked or cancelled.
You will have an overstay in your record, causing a possible denial of admission during your next visit at a port of entry.
You may be restricted from applying for a visa extension or adjustment of status.
You may be only allowed to apply for a U.S. visa from within your home country (even if you live in a third country).
You may subject to Bars to Admissibility if Unlawful Presence accrues.
Overstay Rates
The rate of overstays is low. In fact, in 2018, only 0.41% of visitors on ESTA overstayed, and only 2% of B1/B2 visitor visa holders overstayed. According to DHS officials, 99.24% of foreign visitors had either "departed the United States on time and in accordance with the terms of their admission" or had left within the next six months.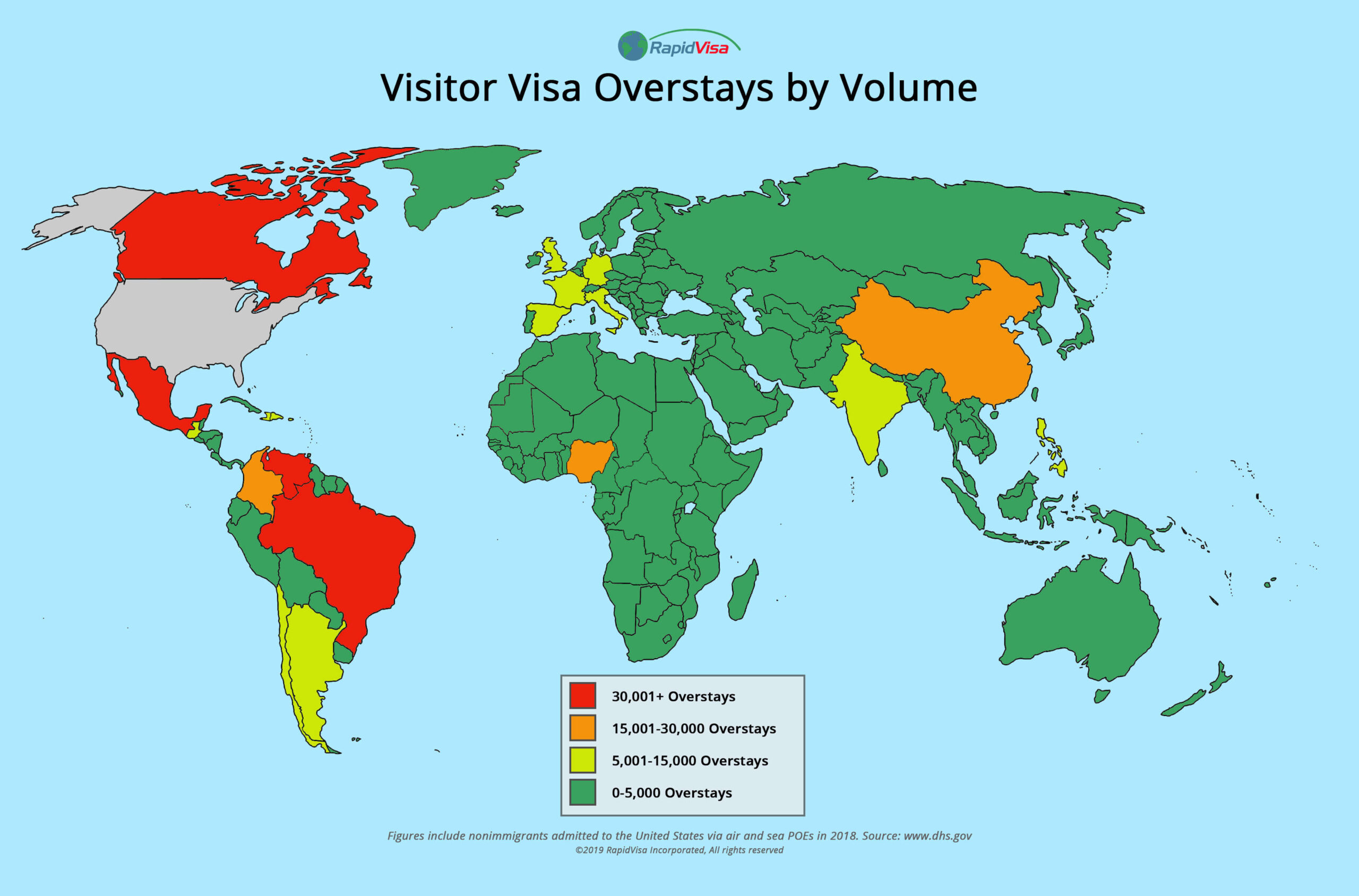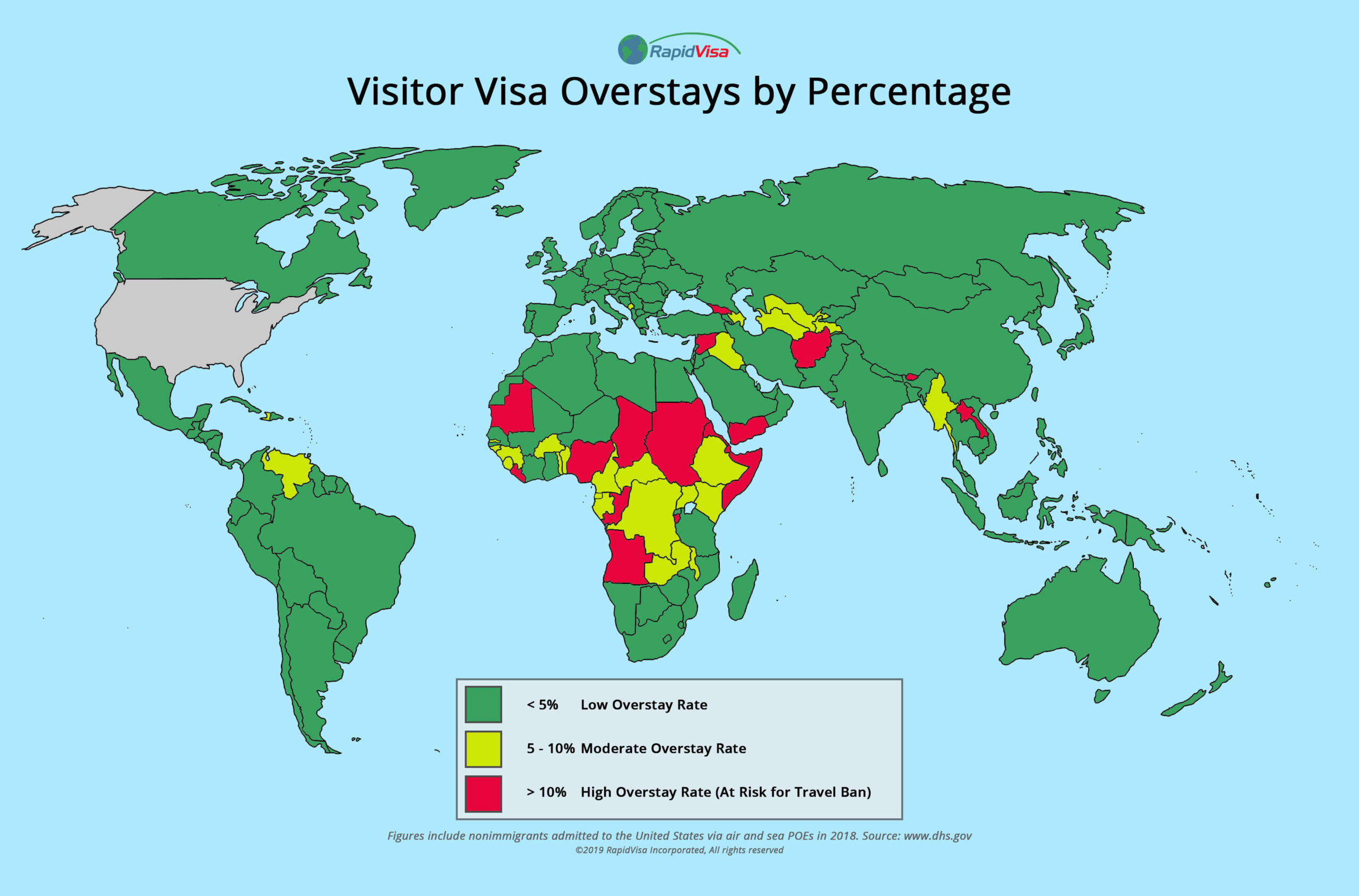 Related Articles:
I Married & Overstayed My Visa! Can I Still Get a Green Card?
How Long Can a Green Card Holder Stay Outside the United States?
Can I Adjust My Status on an Expired Visa?
White House to Potentially Expand Travel Ban (to high overstay countries)