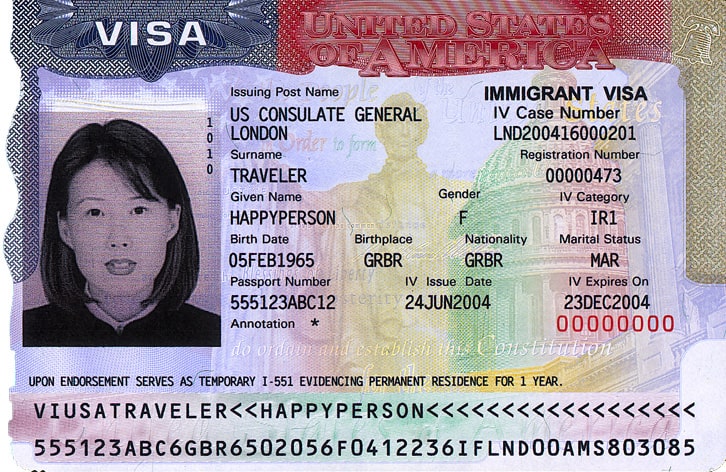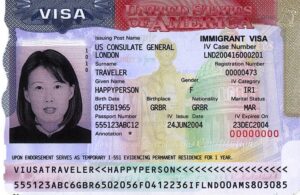 A CR1 spouse visa (also known as the IR1) is an immigrant visa issued to a foreign-born individual who wishes to enter the United States to live with their U.S. citizen or permanent resident spouse. The "CR" from CR1 stands for "conditional resident" and is applicable to couples who've been married for less than 2 years. The "IR" from IR1 stands for immediate relative and is applicable for couples who've been married for 2 years or longer.
The CR1 and IR1 visa come with a permanent residency card (green card), unlike a K visa, which is a nonimmigrant visa that only allows the foreign-fiancé of a U.S. citizen to get married and become a permanent resident through the marriage green card process.
The CR1 / IR1 Visa Process
There are 12 steps to the spousal visa process:
U.S. Citizenship and Immigration Services (USCIS) Filing - Form I-130 application is mailed to USCIS.
Notice of Action 1 (NOA1) - Petition is received by USCIS.
Notice of Action 2 (NOA2) - Petition is approved or denied by USCIS.
National Visa Center (NVC) Phase - USCIS forwards cases to NVC and collects fees and documents.
NVC to Embassy - NVC forwards your case to the U.S. Embassy in the foreign spouse's home country.
Embassy Letter - Embassy contacts you with further instructions.
Medical Exam - Foreign spouse schedules and completes required medical exam.
Embassy Interview - The foreign spouse is interviewed by the consular officer at the U.S. Embassy.
Visa Issued - The visa is pasted in the passport and the passport is returned to the foreign spouse.
Immigrant Fee - The immigrant fee is paid online.
Travel to U.S. - Foreign spouse has 6 months to enter the U.S.
Green Card Issued - The green card is mailed to home address within 2 to 4 weeks after arriving in the U.S.
The CR1/IR1 Visa Timeline
How long does it take to get a CR1 and IR1 visa?
Currently, as of 2023, the average timeline from the initial application to the time the visa is granted is 17 months.
The time can be shorter or longer depending on your situation. We cannot guarantee your timeline, and only provide this as a general estimate based on averages.
Some of the factors that can affect your timeline are:
The foreign spouse's home country
The current USCIS and NVC workload
The quality of the petition you submit
Policy changes
Natural disasters/war/terrorism
1. Notice of Action 1: 1-2 Weeks
After you file Form I-130 ("Petition for Alien Relative"), you will get a notification that USCIS has received it (NOA1/Notice of Action 1).
2. Notice of Action 2: 17 Months (May vary depending on your situation)
Quite likely the most frustrating wait. This is the time between USCIS receipt and approval.
3. National Visa Center Notice: 3-6 Weeks
When your case moves to the National Visa Center.
4. Embassy Phase: 1-3 Months
When your case moves to the local U.S. Embassy.
5. Visa Granted: 2-10 Days
The time after approval until you get the visa in-hand.
6. Green Card: 2-6 Weeks
The time it takes for your green card to arrive, after you've entered the U.S.
Factors That Can Affect Your Timeline
Originating Country
Some countries have longer processes due to the local embassy workload, conflicts in the area, or other unexpected delays.
Requests for Evidence (RFE)
The most common delays are brought on by RFEs. The vast majority of these can be avoided if your petition is assembled professionally.
USCIS Workload
In the past, influxes of USCIS workload have affected overall timelines. This could be brought on by changes in immigration processes or policies.
Quality of Your Petition
Petitions that are fully completed and well-assembled may get approved faster.
Natural Disasters, War, and Terrorism
Events such as these are out of your control and can cause unexpected delays.
Spousal Visa Cost & Fees
How much is the CR1 fee? Government fees are fixed, but other costs will vary depending on your unique situation.
| | |
| --- | --- |
| Government Fees | Variable Costs |
| Everyone pays these. | Varies based on your situation. |
| USCIS Filing Fee: $535 | Travel Costs |
| NVC Fee: $445 | Medical Exam (Usually around $200-$500) |
| USCIS Immigrant Fee: $220 | Assistance (ie. RapidVisa or an attorney) |
| Total Government Fees: $1,200 | |
Unlike the 
K1 visa
, you won't need to adjust status with a
 spouse visa
, as the green card is included.
The cost of the CR1 spousal visa process is significant. CR1 visa costs include things like travel, several government fees, medical exams, and any assistance you hire for help.
Fortunately, the various steps tend to break out the times that certain monies are due. Every case is unique and only you can truly calculate the cost of your overall tab, but the typical case can range from about $1,200 to $5,000 including government fees, medical exams, assistance, and miscellaneous.
CR1 / IR1 Visa Costs & Fees Breakdown
USCIS Filing Fee - $535
This is the fee required to get the ball rolling with your petition. It goes along with the Form I-130 in the initial filing of the CR1/IR1 visa petition.
NVC Fee - $445
This consists of a combination of 2 fees - The affidavit of support fee of $120, and the DS-260 visa application fee of $325.
Immigrant Fee - $220
The immigrant fee is paid via the USCIS Electronic Immigration System and is required for the green card.
Medical Exam - $200-500
This cost varies based on the country of your interview. It is paid directly to a medical facility determined by the U.S. Consulate.
Travel Expenses - (Varies)
The cost for the foreign spouse to travel to the USA after the visa, along with any travel the petitioner does can vary from a few hundred to tens of thousands of dollars. Also consider if the beneficiary is not from the city where the consulate interview will take place, there is more travel.
Assistance - (Varies)
Lawyers can average from around $1,800 to about $3,000 for a straightforward case. RapidVisa's assistance starts at $629 and has payment plans starting at $159 per month. Other agencies charge around $800-1,400.
Miscellaneous
Other costs you should consider are:
Postage - Getting files back and forth between you, your spouse, your agency/attorney, and the government at various steps. If your attorney or agency uses secure document transfer, it can save time and money.
Cost of Acquiring Certain Evidence - Hunting down bank statements or birth certificates can add to the tally.
Passport - If the foreign spouse doesn't already have a passport, he or she will need to acquire one.
Passport Photos - Passport photos are required for the visa. Make sure the beneficiary gets them in the right size and based on USCIS requirements.
Children - Consider extra USCIS & NVC fees, as well as immigrant fee and medical exams if the child CR2/IR2 applicant accompanies the CR1/IR1 applicant.
Translation Service - If you need certain documents translated, and don't have a friend to do it for you, this could add to your cost.
Eligibility Requirements
To petition your spouse for a CR1 or IR1 visa, you must:
Be a U.S. citizen or permanent resident aged 18+
Be legally married to your spouse
Meet the visa income requirements
CR1 Spousal Visa Forms
There are several forms that are submitted/filed at different times to different government agencies along the way. Some people choose to DIY. It can be quite cumbersome to navigate all the CR1/IR1 visa forms yourself, which is why many people opt for assistance.
I-130
The I-130 is an important form needed to kickstart your spousal visa process. You file this form to the USCIS along with a $535 filing fee.
G-1145
An optional form is the G-1145. File this if you want the USCIS to electronically notify you they have received your immigration application. This speeds up your notification and avoids paper.
DS-260
During the NVC phase, you will electronically file the "Immigrant Visa and Alien Registration Application".
DS-261
Also during the NVC phase, you will need to electronically file "Online Choice of Address and Agent".
I-864
The "Affidavit of Support" is required to ensure the beneficiary has adequate financial support in the U.S. and is not likely to rely on the U.S. government for financial needs in the future.
Tips When Filling Out Spousal Visa Forms
Type or print in black ink. Even better, use a computer to print out typed forms.
Follow the instructions for each form extremely carefully. Make no assumptions.
Avoid even the most insignificant typos.
Make copies of everything for your own records before sending to the USCIS.
Don't trust companies who just sell forms. All forms are available free on uscis.gov.
Embassy Interview
At the final stage of the process, the spouse seeking a green card will be required to attend an embassy interview with a consular officer. This will be conducted at a U.S. embassy or consulate that processes immigrant visas, typically in the foreign spouse's country.
The consular officer will ask a few interview questions which will allow them to make a final determination of visa denial or approval. The interviewer's goal is to make sure there is no potential immigration fraud. If the officer approves the visa, the passport will be returned with the granted visa within a few days.
The interview takes place in a private room and rarely lasts more than ten minutes. The U.S. petitioner is never required to attend the interview, although in many countries, they are free to do so. Reading some of the questions below may help you have a more successful interview.
Children included on a CR2 or IR2 visa must also attend the interview.
70 Spouse Visa Interview Questions
Here are 70 sample spousal visa interview questions, which are examples of the kinds of questions you may be asked during the interview. Usually, the beneficiary is expected to answer five to ten questions.
1. What is your spouse's name?
2. What are your spouse's hobbies & interests?
3. What make/model/color is your spouse's car?
4. What are your hobbies and interests?
5. What does your spouse do for a living?
6. What is your spouse's salary?
7. What do you do for a living?
8. Was your spouse married previously?
9. Tell me about your spouse's children.
10. What are your spouse's parent's names?
11. Will there be a problem with the children from a previous relationship?
12. Did you know that your spouse was previously divorced?
13. Where do you plan to live in the United States?
14. When and how did you meet your spouse?
15. How long have you been corresponding with your spouse?
16. Where did you get married?
17. How long has your spouse lived at their current address?
18. What is your spouse's religious background?
19. What is your religious background?
20. Does your spouse speak and understand your language?
21. Do you speak and understand your spouse's language?
22. How much did your spouse spend on their last trip to see you?
23. Has your spouse ever been convicted of a crime?
24. How do you communicate with your spouse?
25. Why do you want to come to the United States?
26. Where and how did you meet your spouse?
27. What is your spouse's full name?
28. How do you spell your spouse's middle name?
29. How long has your spouse been in the USA?
30. Are you a terrorist?
31. What are your other names?
32. Tell me about your wedding.
33. Did you have an engagement party/Who was there?
34. Do you/did you have honeymoon plans?
35. How many days a week does your spouse work?
36. Have you ever been to America?
37. What is your fiance's ex-spouse's name?
38. When do you plan on entering the USA?
39. Does your spouse have any siblings/What are their names?
40. What can you tell me about the state your spouse lives in?
41. When do you plan on leaving after entering the US?
42. Do you and your spouse have plans to have children in the future?
43. Have you met your spouse's parents?
44. Have you ever been denied a visa to any country?
45. What is your spouse's phone number/email address?
46. How often/how do you communicate with your spouse?
47. How old is your spouse?
48. How many times have you been married?
49. How old are your spouse's/your children?
50. What kinds of things do you enjoy doing together?
51. What was the last gift your spouse got you?
52. How does your family feel about the marriage?
53. How does your spouse's family feel about the marriage?
54. What are your favorite traits about your spouse?
55. As a couple, why did you decide to move to the USA rather than your country?
56. Who proposed, you or your spouse?
57. Describe the proposal/When was it?
58. What do you and your spouse have in common?
59. What is your spouse's favorite movie/musical artist/food?
60. How many times have you met in person?
61. How much time have you spent together in person?
62. How do you picture your life in 5 years?
63. Does your spouse have any pets/What are their names?
64. Do you know any of your spouse's friends?
65. How many people showed up to your wedding?
66. Where and when was your spouse born?
67. How long did you date before getting engaged?
68. Do you have any relatives in the USA?
69. Did your spouse go to college/Where?
70. What color are your spouse's eyes?
Additional Items Related to the CR1/IR1 Process
Children of CR1/IR1 Spousal Visas (CR2/IR2 Visa)
If you married your foreign spouse before their children turned 19, and intend to bring them over before they are 21, they may be eligible to come over on a CR2 or IR2 visa. It usually saves a lot of time, headache, and money if you file the child(ren) along with the parent rather than separately.
If you are a green card holder and you plan to sponsor your foreign spouse and their child, you will have to file a separate petition for the child. Note that when a green card holder petitions for a spouse or a step-child, the spousal visa processing time takes substantially longer than if you were a US citizen petitioning for a spouse or step-child. A typical spousal visa timeline is generally under two years. But a spousal visa for an LPR, or legal permanent resident, can take up to three to five years.
If you, the sponsor, are eligible to naturalize and become a US citizen, it may save you significant time to naturalize first, and then petition as a US citizen.
Working in the U.S. with a Spousal Visa
Shortly after arriving in the U.S., the foreign spouse will receive his/her green card and be able to legally work in the United States.
CR1/IR1 Visa if in the United States Illegally
The foreign spouse will not be able to apply for permanent resident status (get a green card and obtain legal status) while in the United States illegally. A person who enters illegally may be banned from returning to the United States for up to 10 years. If this is your situation, you should talk to an immigration attorney before you leave the United States.
Same Sex Spousal Visas
Same sex couples are eligible to apply for the CR1/IR1 visa. The process is the same as for heterosexual couples.
After Visa Issuance
The CR1 visa is valid for 6 months after it's granted. But unlike the K1 visa, the CR1 visa comes with a green card. This nullifies the need for adjustment of status. This option can be beneficial if the foreign spouse intends to work legally in the U.S. shortly after arrival. It also helps if the spouse wants or needs to exit the U.S. unexpectedly, as there would be no need to acquire future visas to reenter the United States.
Spouse Visa FAQs
K-1 fiancé visa vs. CR1 spousal visa: Is CR1 visa faster?
When choosing between the K1 and CR1, there are two time-related factors to consider:
How quickly can your fiancé enter the United States?
How soon after arriving in the United States can they obtain permanent residency (also known as a green card)?
If your main concern is getting your fiancé to the United States as quickly as possible, the K-1 visa used to be several weeks faster from the time of application to the time the visa is issued, however government processing times have started to change.
According to USCIS' data (as of 2023), the K-1 visa currently takes between 10-16 months and the CR-1 visa takes around 17 months. Keep in mind that the processing time can be longer — sometimes more than a year — depending on your specific situation.
However, the K-1 visa has an extra step: After a fiancé enters the United States on a K-1 visa, they need to marry the U.S. citizen and apply to adjust their status, a process that can take an additional six months before receiving the green card. Without the green card, the foreign spouse won't be able to legally work in the United States or travel outside the country without applying for another visa.
If the couple gets married outside the United States, and the foreign spouse then enters the United States on a CR1 spousal visa, they will obtain their green card immediately after entering the U.S. For this reason, if your primary concern is for your fiancé to get a green card as quickly as possible, the CR1 spousal visa is the best option.
So, to recap, it's typically quicker to get the K-1 visa and therefore reunite sooner with your spouse, but the CR1 visa will help your foreign spouse obtain their green card faster.
If this sounds complicated, don't worry! RapidVisa can guide you through every milestone of your immigration journey.
What should I expect from the medical exam on a spousal visa?"
All applicants preparing to enter the US on a CR1 spousal visa are required to complete a medical exam before the consular officer will approve it. This medical exam is at the end of the process. We recommend completing the medical exam at least five to ten business days prior to the interview to ensure that the medical exam results are going to get to the U.S. Embassy in a timely manner.
Where you'll have the medical exam is decided by the U.S. Embassy. The embassy will send out a set of instructions that covers your interview instructions and medical exam instructions.
The medical exam fee varies from country to country and will be determined by the facility, and paid directly to that facility in local currency.
Some items you'll want to take to the medical exam include, but are not limited to:
Original interview or appointment letter and 1 photocopy
Valid passport
Photocopy of the biographic page of your passport
4 passport-style photos
Vaccination records if you have them
What to expect:
a standard physical exam
a pelvic exam
a urinalysis
a chest x-ray
blood work
The primary concerns that could disqualify you or cause delays are communicable diseases and signs of drug abuse or mental instability, among others. These rarely cause an issue, and even when they do, they likely tell you to return in a number of months for a follow-up.
To learn more, visit the USCIS website directly.
If your case is denied, how long will you have to wait before you can re-file?
In the case of a fiancé or spousal visa, it usually takes two to three months for the embassy to send your case back to the National Visa Center (NVC) and then the NVC sends your case back to USCIS where they'll review your case again. They may reaffirm it, meaning review it, approve it, send it back to the U.S. Embassy, or they may revoke the approval notice from USCIS.
You may not be able to re-file at all, depending on the reason for denial. If you receive a denial letter from the USCIS, find out the exact reason why you were found to be ineligible or why you were denied, and then go from there.
In some cases you can submit a letter to USCIS requesting that they close that case. The reason why you want to close that case is that it's not recommended that you have more than one active application or petition in the system. If you do have multiple petitions in the system, it could be viewed as immigration fraud — that you're just doing anything to get to the United States, and receive an immigration benefit. That could be viewed or be construed as immigration fraud.
That being said, the easy, safe method would be to simply wait until you get your denial letter. You can also contact your congressman or senator, or submit a FOIA request.