Are you married to, or marrying a British citizen?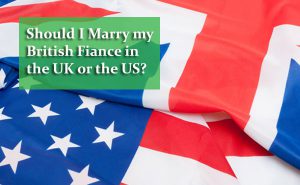 RapidVisa can help you petition for a visa for your British partner to immigrate to the United States. Don't leave such a delicate process in the hands of an amateur. We have a nearly 100% success rate! Be cautious of skirting the rules and be safe, do it the right way.
United States Embassy, London
Embassy Website: https://uk.usembassy.gov/
Embassy Phone Number: 011-44- 20-7499-9000
Embassy Email Address: LondonConsular@state.gov
Can fiancé/spouse attend the interview: Yes
Where to pay the Embassy fee: https://uk.usembassy.gov/visas/non-immigrant-visa-fees/
If application is being handled via Embassy London:
Immigrant Visa Applicants - Fees are being paid to the Embassy clerk on the day of your interview appointment.
There are several options on how to pay the visa fee.
* By cash – sterling or dollar equivalent;
* By International Money Order or Bankers Draft;
* By Credit Card – Visa, MasterCard, Diners Club, Discover or American Express; or Debit Card with the Visa logo.
The Embassy does not acknowledge whatever other platinum cards (credit or debit), or individual checks.
K Visa Applicants - Before your interview appointment, you have to pay the visa fee via the Consular Section's Visa Information and Appointment Services contractor. Details regarding payment will be indicated in your appointment letter.
Local language documents need translated: All documents not in English must be accompanied by certified English translations. The translation must include a statement signed by the translator that state that the translation is accurate. Only one copy is needed. Note: Applicants are also required to submit the original document, in the original language.
Medical Examination Fee: An adult medical examination (i.e. aged 15 and over) costs £250.00; a child's medical
examination (aged 14 and under) costs £120.00. Additional charges may apply if further
tests are required. Payment is made at the time of the medical examination either in cash,
or by credit card (Visa or MasterCard) or debit card. Personal checks are not
acceptable.
Embassy appointment scheduling method: The Immigrant Visa Unit is processing your application for a fiancé(e) (K-1) visa. You are obliged to finish the steps to get everything set for your interview appointment. (Spouses of U.S. Citizens and their kids petitioning K-3 & K-4 visas are obliged to take after the same guidelines).
You ought to just finish these steps in the event that you have received a notification from the Embassy affirming that your petition has been gotten in the Immigrant Visa Unit in London.
It would be ideal if you take note that, you cannot set up an interview appointment until you have finished Steps 1 – 4 and the result of your medical examination has been forwarded already to the Immigrant Visa Unit.
Medical appointment scheduling method: You may schedule an appointment by telephoning 020 7486 7822 Monday to Friday, from 9:00 a.m. to 5:00 p.m. You must quote your case number (begins with the first three letters of the post - London is LND) when making your call. Appointments are scheduled on a first come, first served basis.
Please do not schedule an appointment unless you have received your appointment letter from the National Visa Center or, if your application is being processed by the IV Unit, you have completed and submitted all of the forms required to process your visa application.
Number of photos required for the Embassy Interview: 2
Number of photos required for Medical Examination: 4
Reciprocity by Country (Documents by Country): Click here for the complete details.
Embassy/Interview instructions for K visas:
By Appointment Only: Once your application has been processed, you will be receiving an appointment letter affirming the date and time you are instructed to show up for your visa interview at the Embassy. Bring this letter during your interview appointment.
Make sure of the date and time of your appointment indicated in the letter. You will not be entertained more than 30 minutes before the time shown. In addition, arriving too late may resulted for the cancellation of your interview appointment.
Click here for more details.
Embassy/Interview instructions for immigrant (CR-1/IR-1/IR-5) visas: If the National Visa Center (NVC) is processing your application, they will schedule the visa interview before sending your file to the Immigrant Visa Unit at the Embassy. If you have any questions concerning your case before an interview is scheduled for you, please contact the NVC.
The Immigrant Visa Unit in London cannot assist you until the appointment for the interview has been scheduled and we are in receipt of your file.
Contact information for the NVC is available here.
Medical examination instructions: All applicants, regardless of age, are required to complete a medical examination performed by an Embassy approved physician prior to their visa interview. We cannot accept medicals performed by any other physician.
If your application is being processed by the Immigrant Visa Unit, the appointment for the visa interview will not be scheduled until the medical examination has been received.
If your application is being processed by the National Visa Center, while they will schedule your interview, you must schedule the medical examination before you attend the Embassy otherwise your application will be refused pending receipt of the report.
When scheduling the appointment, please note that it takes 5 workdays for the results of the medical examination to be couriered to the Embassy.
For further information, click here.
Others: IV forms, Document Checklist
Testimonials from United Kingdom
Thank you so much for all the help you guys are awesome, I like how you guys take care your customers like us, and my fiancé she's so much happy and exiting to see me now here in California..... Thanks again Rapid Visa and God Bless....
~ Felix and Mylen
Felix and MylenPhilippines / United States of America