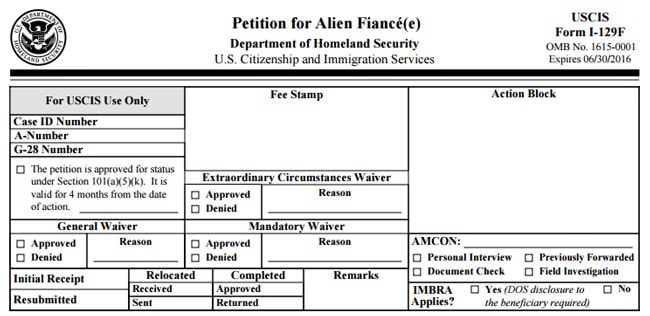 The fiance visa forms, like any government forms, can be intimidating. The important thing to do is carefully follow instructions if you are doing it yourself, or choose professional assistance from an agency or attorney that is very experienced with the forms, how to properly fill them out, and when and how to submit them to the government.
The importance of the accuracy and quality to which all forms are filled out cannot be overstated. Many people seek assistance to avoid a "Request for Evidence" (RFE), which is one of the main reasons a petition has a long timeline.
Appendix of Fiance Visa Forms
| | |
| --- | --- |
| Form | Purpose |
| I-129F | Petition for Alien Fiancé(e) |
| DS-160 | Online Nonimmigrant Visa Application |
| G-1145 | e-Notification of Application/Petition Acceptance (Optional) |
I-129F
The I-129F is the most significant and important form needed to begin filing for a fiance visa. You file this form to the USCIS along with a $535 filing fee.
DS-160
Towards the end of the process, you'll need to fill out the online DS-160 Form, which applies for a nonimmigrant visa on the Department of State side. This form is 100% electronic.
G-1145
An optional form is the G-1145. File this if you want the USCIS to electronically notify you they have received your immigration application. This speeds up your notification and avoids paper.
Tips When Filling Out K1 Visa Forms
Type or print in black ink. Even better, use a computer to print out typed forms.
Follow the instructions for each form extremely carefully. Make no assumptions.
Avoid even the most insignificant typos.
Make copies of everything for your own records before sending to the USCIS.
Don't trust companies who just sell forms. All forms are available free on uscis.gov.