Naturalization is the process through which a foreign national who has been awarded lawful permanent residence attains citizenship rights in the United States. Once the process is complete, the foreign national will receive all the liberties and rights afforded to native-born Americans including passports, the right to vote, and access to retirement entitlements.
The American Dream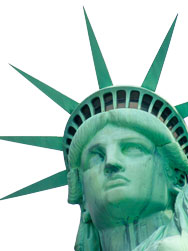 For many foreign nationals, applying for naturalization is the culmination of a lifelong dream. After years of maintaining lawful status, filing government forms and being productive members of an adopted America, the possibility of citizenship through naturalization is finally at hand.
Every year, hundreds of thousands of foreign residents are awarded naturalization though the USCIS. It is not an easy endeavor, and although the process is daunting and difficult, the opportunities provided through naturalization are priceless. Whether the foreign national is a student, contracted worker, entrepreneur or family member, achievement of full American citizenship is the ultimate prize.
The path to citizenship spans several stages, each of which must be fulfilled by the aspiring US citizen. Eligibility requisites, form filings, biometric appointments and USCIS interviews are all part of the process, and each must be dutifully detailed and fulfilled.
The Naturalization Process
Although specific stages might vary according to each applicant's particular circumstances, the basic process is as follows:
Establish eligibility for naturalization
Application for Naturalization mailed to the USCIS along with all fees and supporting documents
Notice of Action 1 – Notice that Application of Naturalization has been received
Notice of Action 2 – Instructions for applicant to attend biometrics appointment
Applicant attends biometrics appointment
Notice of Action 3 – Instructions for applicant to attend USCIS interview along with English and US civics quiz
Attend USCIS interview/English and civics quiz*
Notice of Action 4 - Receive formal decision from USCIS on naturalization application
Notice of Action 5 - Receive notification as to scheduled oath ceremony
Attend citizenship oath ceremony and receive Certificate of Naturalization
* Note that some applicants may be told they are approved at the end of the interview session. Likewise, they may be told when and where to take the Oath of Allegiance. See Naturalization Process.
Timeline
As of 2020, the average time from initial filing of the N-400 Application to the moment of final adjudication is approximately 5 to 6 months from start to finish on average. Keep in mind that the specific circumstances of each applicant can add to that estimate.
Some of the factors that can affect your timeline are:
The current USCIS workload
Errors on the application or missing documentation
Whether further action is needed after the interview
Whether the applicant is applying from a high-fraud area
Note that most delays in processing result from missing evidentiary documents (and subsequent Requests for Evidence) and/or errors made on the official forms. For more info, see naturalization timeline.
Eligibility Requirements
Prior to actually filing an Application for Naturalization, each applicant must first determine if they are eligible. In order to apply, you must:
Be 18 years of age
Have been lawfully admitted into the United States and maintained all requisite residency requirements
Have maintained sufficient "physical presence" (discussed further below)
Have lived for at least three months in the state or district the applicant is filing from.
Exhibit certain English reading, writing and verbal proficiency
Show that you have followed the principles of the US Constitution
Exhibit knowledge of the history, precepts and form of government in the United States
Take the Oath of Allegiance
Please note that waivers are available for some of these requirements. Please refer to Naturalization Requirements for additional information.
Costs and Fees
Generally, government filing and biometrics fees are fixed, but other costs will vary depending upon the specific needs of each individual applicant.
Government Fees as of December 23, 2016.
| Government Fees | Variable Costs |
| --- | --- |
| Everyone pays these. | Varies based on your situation. |
| USCIS Filing Fee: $1,170 | Assistance (ie. RapidVisa for $349) or a traditional attorney for up to $2,000) |
| Biometrics Fee: $30 | |
| Total Government fees: $1,200 | |
Note that applicants aged 75 year or older do not have to pay the biometrics appointment fee. No fees at all are required from military applicants utilizing section 318 or 329 of the Immigration and Naturalization Act. A reduced fee is available to low-income applicants though filing a Form I-942 Request for Reduced Fee. RapidVisa does not assist with this process.
Forms Required
The number and types of forms needed for filing vary.
| Form | Purpose |
| --- | --- |
| N-400 | Application for Naturalization |
| I-551 | Permanent Resident Card (copies of front and back) |
| I-90 | Application to Replace Permanent Resident Card (if needed) |
| N-426 | Request for Certification of Military or Naval Service (if needed) |
| N-648 | Medical Certification for Disability Exceptions (if applicable) |
| G-1145 | E-Notification of Application/Petition Acceptance |
See Naturalization Forms.
Naturalization Interview
All persons applying for naturalization are required to attend an interview with a USCIS officer. The interviews are conducted at regional USCIS offices, and the applicant will be notified in writing as to the date, time and place. During the interview, the USCIS officer reviews all relevant documents, investigates any irregularities or omissions and conducts an English proficiency and government civics examination. See Naturalization Interview for more information.
Oath of Allegiance
Once approved by the USCIS, the applicant is informed of the date, time and place of their naturalization ceremony. There, they will take the Oath of Allegiance to the United States, renounce any other foreign citizenry and receive a Certificate of Naturalization. Family and friends are welcomed to attend the ceremony and for many, this day marks the realization of that long-awaited American dream.