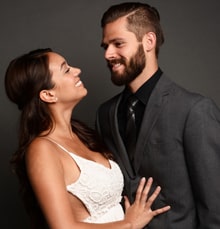 This list is the main eligibility requirements, but every petition is different. USCIS and consular officers are different and some countries may have additional requirements.
If you work with an immigration attorney, or a visa agency, they will carefully review your situation to verify that you meet all of the requirements.
To qualify for a CR1 or IR1 visa, the U.S. petitioner must:
Be a United States Citizen or Permanent Resident
The U.S. petitioner must be able to prove he or she is a United States citizen or green card holder. The process for green card holders can take up to two years or longer.
Be Legally Married to Your Spouse
The couple must be legally married. Make sure that if it was a religious ceremony, it is recognized and legally documented by the government of the country the marriage took place in.
Meet the Income Requirements
The income requirement varies based on state, number of people in the household and how many aliens are being sponsored. If you don't meet the income requirements, there are a few alternative methods to qualify.
Options If You Don't Meet the Requirement
Assets
You can use 1/3 of the dollar value of certain assets, such as real estate, stocks and bonds.

If you have someone willing to co-sponsor, such as a family member or friend, you can use their income.
NOTE: The income requirement is one of the most common reasons for denial. You need to prove you qualify through documents like tax returns and pay stubs.