"How long does it take to get a CR-1 spousal visa?"
This post gives some insight into what you could expect in terms of waiting times for each step of the process. Be advised that the times mentioned in this resource are not meant as legal advice and are only informational, based on our experience with over 13,000 customers.
There are 7 major waiting steps along the way – 8 if you count the green card. We've created a video as well as an infographic to make the process easier to understand.
The part
we can control
is significantly faster than an attorney.
Most attorneys (if not all) take significantly longer to process a visa petition than RapidVisa. Even the intake process where they gather your information can take weeks, whereas the RapidVisa system can take your information as fast as you can enter it. The review process with RapidVisa is exactly what our name says – "rapid". Our agents get an alert in real-time when your petition is ready for review, and it goes into a detailed manual review process.
Within 4 business hours, we'll be done with the initial review and have your signature-ready petition available for you, barring any corrections needed or mistakes identified by our trained experts.
1: Fill out your questionnaire and checkout.
After you've created your free account, filled your questionnaire out 100%, and paid our fee, an agent is alerted in real-time to start reviewing your case. They look for any discrepancies, errors, or mistakes that would cause a future RFE and catch them before we send it in. This avoids future delays.
2. Petition Ready – 4 Hours
After reviewing and everything is ready to go, we will alert you that your petition is ready to print. You print it, sign it, and prepare it for mailing, with all the supporting documents included on your customized checklist. At this point, either you will send it directly to USCIS, or, if you purchased our premium review package, you will send it to our Colorado office and our team will assemble the packet just how the government likes it, and manually review it a second and third time. Then we will send it off to USCIS (postage and materials included).
3. Receipt Notice – 1-2 Weeks
This notice is USCIS letting you know they have put your case 'in line'. They'll assign it a case number then it's a game of 'hurry up and wait'.
4. Approval Notice – At least 5 months
This is one of the longest phases of waiting. It can be frustrating but hang in there. We've had cases take as quick as 8 days, and as long as several months. Generally speaking, it is at least 5 months until you get your approval notice. The other two possibilities are an RFE (request for evidence), or a denial. If you go with RapidVisa, there's a 99.7% chance you'll get approval.
5. NVC Stage – 3-6 Weeks
Now that USCIS approved your case, it moves on to the Department of State's National Visa Center usually within about 3 to 6 weeks.
6. Embassy Interview
After several months, the foreign spouse will have a face-to-face interview with a consular officer at the US embassy in your home country, or a nearby country. You will need to get your medical exam at least 5 business days before your scheduled interview date so that the results get to the embassy in time. The timelines for your U.S. visa appointment also vary based on the country and external factors (for example, COVID-19 precautions).
7. Visa Granted – One week
Within a week or two, you'll have your passport back, with a visa to enter the United States. After entering the country, you will receive your permanent residence card (green card) in a few weeks. At this point, you are free to work legally and leave and re-enter the US.
Infographic: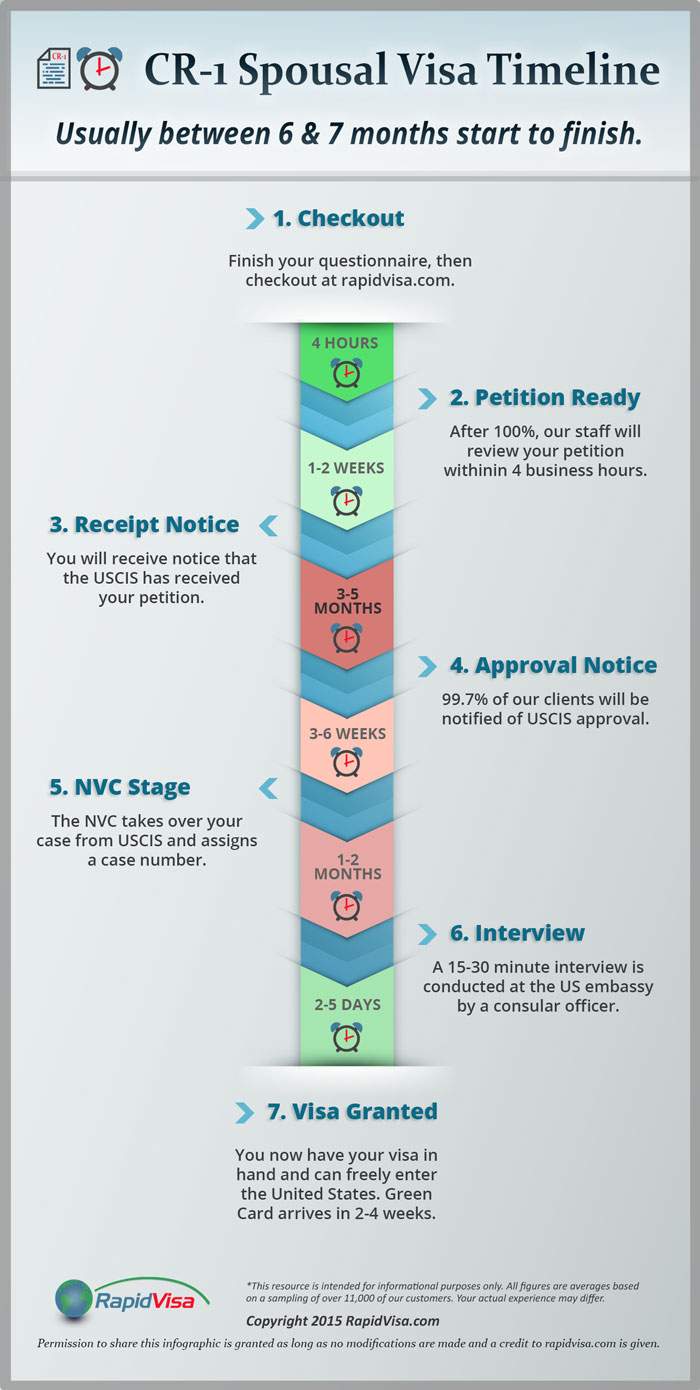 Video:
Disclaimer: The contents of this post were accurate to the best of our knowledge at the time of publishing. Immigration is constantly changing, and old information often becomes outdated, including procedures, timelines, prices, and more. Take note of the publish date. For archival purposes, these posts will remain published, even if new information renders them obsolete. Do not make important life decisions based on this content. No part of this post should be considered legal advice, as RapidVisa is not a law firm. This content is provided free of charge for informational purposes only. If anything herein conflicts with an official government website, the official government website shall prevail.