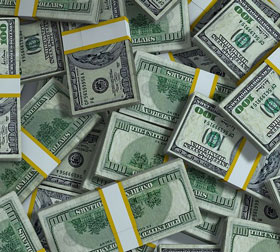 The cost of the K1 fiance visa process is fairly significant for many applicants. Certainly finding love overseas isn't a "cheap" endeavor. From the cost of travel and accommodations, to the several government fees, medical exams and assistance.
Fortunately, the various steps tend to break out the times that certain monies are due. Every case is unique and only you can truly calculate the cost of your overall tab, but the typical case Fiancé visa cost can range from $1,200 to $5,000 including government fees, medical exam, assistance and miscellaneous.
Basic K1 Visa Cost Overview
| | |
| --- | --- |
| Government Fees | Variable Costs |
| Everyone pays these. | Varies based on your situation. |
| USCIS Filing Fee: $510 | Travel Costs |
| Embassy Fee: $265 | Medical Exam (Varies by country.) |
| Total Government fees: $775 | Assistance (ie. RapidVisa or an attorney) |
K1 Visa Costs & Fees Breakdown
| | |
| --- | --- |
| USCIS Filing Fee - $510 | This is the fee required to get the ball rolling with your petition. It goes along with the Form I-129F in the initial filing of the k1 visa petition. |
| Embassy Fee - $265 | This fee is paid towards the end of the process, and paid directly to the U.S. embassy where your fiance visa interview is conducted. |
| Medical Exam - $60-$300 | This cost varies based on the country for your interview. It is paid directly to a medical facility determined by the U.S. Consulate. |
| Travel Expenses - (Varies) | The cost for the alien fiance to travel to the USA after the visa, along with any travel the petitioner does can vary from a few hundred to tens of thousands of dollars. Also consider if the alien is not from the city where the consulate interview will take place, there is more travel. |
| Assistance - (Varies) | Lawyers can average from around $1,800 to about $3,000 for a straightforward case. RapidVisa's assistance starts at $429 and has payment plans starting at $99 per month. Other agencies charge around $800-1,400. |
Miscellaneous
Other costs you should consider are:
Postage - Getting files back and forth between you, your fiance, your agency/attorney, and the government at various steps. If your attorney or agency uses secure document transfer, it can save time and money.
Cost of Acquiring Certain Evidence - Hunting down old divorce decrees, bank statements, or birth certificates can add to the tally.
Passport - If the alien doesn't already have a passport, he or she will need to acquire one.
Passport Photos - Passport photos are required for the K1 visa. Make sure the alien beneficiary gets them in the right size and standards.
Children - There is no extra USCIS fee if the child K2 applicant accompanies the K1 applicant, however, there will be additional embassy fee and medical exam fee.
Translation Service - If you need certain documents translated, and don't have a friend to do it for you, this could add to your cost.
IMPORTANT
The alien fiance will need to obtain a green card to stay and work in the USA, after the k1 visa process, which is an entirely different process with different costs, called "adjustment of status".