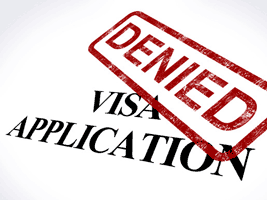 Be aware that while the majority of fiance visas are approved, there are some things that can give you a much higher chance of denial. The good thing for you, is RapidVisa has an excellent record of avoiding denials, over 99%. If you're thinking about doing this on your own, consider these things that can get you denied, and let us lower your chances. For more info on the k1 visa process, go here.
Here are 25 things that can get you denied:
Missing required documents
Missing supporting evidence
Incorrect paperwork or forms
Missing signatures on forms
Outdated forms
Have not physically met in person within the last two years of filing
Not legally able to marry – still married or not divorced
No proof of bona fide or legitimate relationship
Unable to prove intent to marry
Incorrect or missing translation documents
Insufficient income/assets of the U.S. citizen sponsor
Very large age difference between the couple
Did not adhere to cultural norms i.e. did not have an engagement ceremony when this is customary for the local culture.
Minimal communication or contact in the previous year, the couple have not seen each other for an extended period after filing I-129F K1 visa application
Communication barrier where neither partner speaks the other language; poor English skills
Partner with a minor child is unable to obtain legal custody
Lack proof of day to day contact/communication
Beneficiary at the visa interview does poorly and consular officer doubts there is a bona fide relationship to the U.S. citizen
The U.S. citizen petitioner has filed for another foreign citizen in the past
Criminal record (Call us)
Medical condition or disease (such as communicable diseases)
Fiancé misrepresents a fact or error at the visa interview
Fiancé presents a document that appears to be fraudulent
Fiancé has previously lived in the U.S. and overstayed the visa
Fiancé provides fake or Photoshopped photos or other fraudulent evidence
These 25 reasons constitute only a fraction of what could go wrong. It's best not to take chances and go with our 99%+ approval rating.
Disclaimer: The contents of this post were accurate to the best of our knowledge at the time of publishing. Immigration is constantly changing, and old information often becomes outdated, including procedures, timelines, prices, and more. Take note of the publish date. For archival purposes, these posts will remain published, even if new information renders them obsolete. Do not make important life decisions based on this content. No part of this post should be considered legal advice, as RapidVisa is not a law firm. This content is provided free of charge for informational purposes only. If anything herein conflicts with an official government website, the official government website shall prevail.
Blog Categories
Blog Archives