Once the US Embassy in Manila approved you for US Visa, you have the two options on how you can receive it. You have the option for Home Delivery or Pick Up.
If you choose to pick up your visa at 2GO outlet you selected, you will receive a Text Message from them saying that "Your Passport/Visa is ready  for pickup at 2GO outlet you selected". See the sample text message from 2GO below: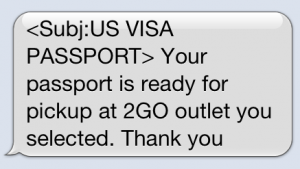 The delivery time normally takes within 3-5 business days within Manila areas but if it's in Provincial areas it can take up within 1 to 2 weeks.
You can also track your passport/visa through the 2GO website. Here's the link:
http://supplychain.2go.com.ph/CustomerSupport/etrace/index.asp
For 2go, you only need to provide your passport number or your MNL case number.  It will keep saying "invalid" until 2go receives the visa from the US Embassy.
Source: http://supplychain.2go.com.ph/CustomerSupport/etrace/index.asp
8 Thoughts on "US Visa in the Philippines: Getting a Text Message from 2GO"