After the US Embassy in Manila approves your U.S. visa, you have two options for how to receive it. You have the option for home delivery or pick up at a 2GO location.
If you choose to pick up your visa at the nearest 2GO branch, you will receive a text message from 2GO saying that "Your Passport/Visa is ready for pickup at the 2GO outlet you selected". See the sample text message from 2GO below: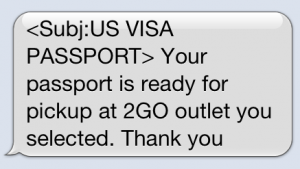 The delivery time is within 3-5 business days in the Manila area but can take 1 to 2 weeks outside of Manila.You can also track your passport/visa through the 2GO website. For 2GO, you need to provide your passport number or your MNL case number. It will keep saying "invalid" until 2GO receives the visa from the U.S. Embassy.
Disclaimer: The contents of this post were accurate to the best of our knowledge at the time of publishing. Immigration is constantly changing, and old information often becomes outdated, including procedures, timelines, prices, and more. Take note of the publish date. For archival purposes, these posts will remain published, even if new information renders them obsolete. Do not make important life decisions based on this content. No part of this post should be considered legal advice, as RapidVisa is not a law firm. This content is provided free of charge for informational purposes only. If anything herein conflicts with an official government website, the official government website shall prevail.