If you are submitting an immigration-related petition or an application to U.S. Citizenship and Immigration Services (USCIS), you will most likely need to pay processing fees that may include filing, biometrics or other fees.
Here are some guidelines to follow when paying fees to the USCIS:
Fees must be drawn from a U.S. bank or financial institution and can be made with bank drafts, cashier's checks, certified checks, personal checks, and money orders.
For those living in the United States or its territories, make the check or money order payable to "U.S. Department of Homeland Security". Do not abbreviate any part of "Department of Homeland Security" or use initials like "DHS" or "USDHS." Write it out exactly as written.
You will need to contact the nearest U.S. Embassy or consulate if you live outside the United States or its territories for instructions on paying immigration fees.
Instructions for Writing a Check to USCIS
All checks must be typed or written in ink. Personal checks must be pre-printed with the name of the bank and the account holder. Account holder's address and phone number must be pre-printed, typed or written in ink on the check.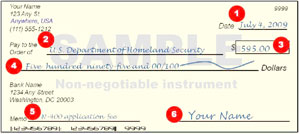 To ensure that you application will be filed correctly, follow the instructions outlined below if you are paying fees by check:
Item1: Write the date you are filling out the check including: day, month, and year e.g. "12/19/2012"
Item 2: Make check payable to U.S. Department of Homeland Security. This is written on the "Pay to the Order of" line.
Item 3: Using numbers, write in the exact dollar amount of the fee for the service you are requesting e.g. "$595.00."
Item 4: Spell out the exact dollar amount of the fee for the service you are requesting. The "cents" portion of the amount should be written as a fraction over 100. In this example, the amount is "Five hundred ninety-five and 00/100."
Item 5: On the Memo line, write a brief description of the purpose of your payment e.g. "N-400 application fee."
Item 6: Sign the check using your legal signature.
Note: Before mailing check with your application inspect it with a critical eye to ensure it is filled out correctly.
Be aware of the following if you are paying your fees by check:
By paying fees with a check, you authorize USCIS to convert your check into an electronic fund transfer. Checks sent to USCIS are scanned and converted into electronic funds transfers (EFT). This means that you will not receive the check back. USCIS uses the account information to debit your account electronically for the amount of the check.
An electronic fund transfer from your account can occur faster than normal processing of a paper check. Be sure that your account has sufficient fund before mailing a check. The USCIS will attempt to complete the electronic fund transfer up to two more times if the account has insufficient funds. You will be billed for the original check amount plus a one-time administrative fee if your account still lacks sufficient funds.
If an electronic fund transfer cannot occur for technical reasons, you authorize the USCIS to process the copy of your original check through normal paper check procedures.
Reference: USCIS
Disclaimer: The contents of this post were accurate to the best of our knowledge at the time of publishing. Immigration is constantly changing, and old information often becomes outdated, including procedures, timelines, prices, and more. Take note of the publish date. For archival purposes, these posts will remain published, even if new information renders them obsolete. Do not make important life decisions based on this content. No part of this post should be considered legal advice, as RapidVisa is not a law firm. This content is provided free of charge for informational purposes only. If anything herein conflicts with an official government website, the official government website shall prevail.