We're pleased to roll out our new website, in an effort to make your experience with us even more enjoyable and pain-free. We've introduced a number of new features that truly set us apart.
What's New?
1. The website is now multilingual.
We're rolling out our site in English and Spanish, with plans for other languages like Russian and Portuguese in the future. Now, Spanish customers will be able to navigate and use the majority of the site in their native tongue. To change the site's language, simply select the language at the header of the site as illustrated below. If the English page you're on has a translated version, the dropdown will automatically take you to the translated version of that page.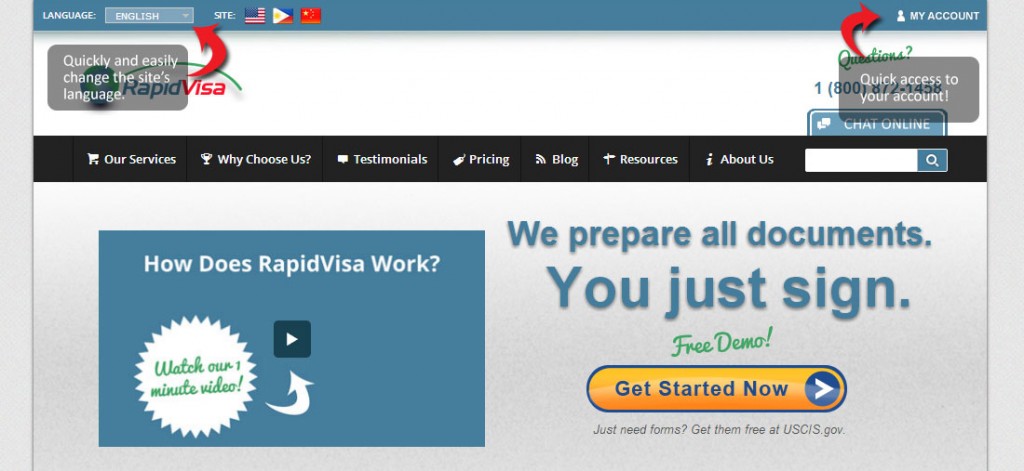 2. Quicker & More Secure Account Access.
Get quick access to your account by clicking the 'My Account' button from any page or browser size (See above image). We've also separated our front end site from our secure account area, and obtained a higher level of security for your account.
3. Interactive Map Immigration Information
Not all immigrants to the US are from the same place, so now you can go here to find country-specific info from US Embassies, RapidVisa testimonials, interview information and more. We'll be continually adding to this resource until we have covered over 180 countries in the database.
4. A More Pleasant Mobile Experience
We've made our site mobile responsive to optimize your experience in any browser or on any device. Simple tap to call phone and chat buttons, app-style navigation, and no horizontal scrolling will make our site easier to use on your devices.
If you come across any bugs or issues, or need any help, please let us know.
Disclaimer: The contents of this post were accurate to the best of our knowledge at the time of publishing. Immigration is constantly changing, and old information often becomes outdated, including procedures, timelines, prices, and more. Take note of the publish date. For archival purposes, these posts will remain published, even if new information renders them obsolete. Do not make important life decisions based on this content. No part of this post should be considered legal advice, as RapidVisa is not a law firm. This content is provided free of charge for informational purposes only. If anything herein conflicts with an official government website, the official government website shall prevail.