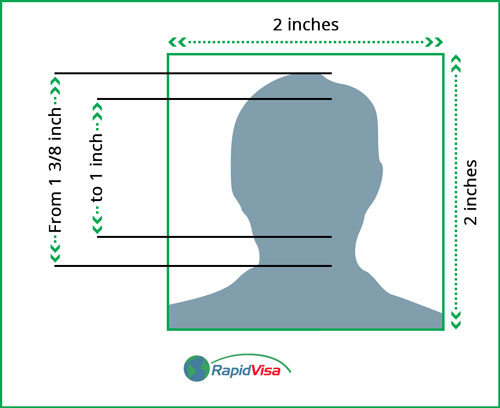 The USCIS asks you to submit 2 inch by 2 inch passport photos for both you and your foreign fiance or spouse. However getting 2x2 passport photos from most foreign countries is difficult to impossible partly because most countries use the metric system.
These are the official passport photo sizes for the top 10 K1 visa countries (width x height):
Philippines: 3.5 x 4.5 cm
China: 3.3 x 4.8 cm
Mexico: 3.5 x 4.5 cm
Vietnam: 4 x 6 cm
Columbia: 1.5 x 2.5 inches
United Kingdom: 3.5 x 4.5 cm
Thailand: 2 x 2 inches
Dominican Republic: 2 x 2 inches
Russia: 3.5 x 4.5 cm
Ukraine: 3.5 x 4.5 cm
Make progress today
Our experience here at RapidVisa has been that the USCIS will accept all these sizes. However the actual rule is 2x2 inches so proceed with caution.
There is actually a movement to standardize passport photos to 3.5 x 4.5 cm. Unfortunately the U.S. is one of the few countries left that has not embraced the metric system so we are stuck with the 2 inch x 2 inch standard which works out to 5.1 x 5.1 cm.
The reality is that the USCIS continues to take photos that are close but not exactly 2"x2". After all the photos are not actually going to be used for a passport. However you should try to get as close to 2"x2" as you can. And you need to make sure your photographs meet all the other passport photo requirements as follows:
Can be smiling slightly or neutral expression.
No squinting.
Camera should be four feet from subject and at eye level.
Background must be white or off-white.
Must be in color.
No more than 30 days old.
The head must be between 1 inch tall & 1- 3/8th's inches tall.
No sun glasses.
No hats or headgear unless worn daily for religious reasons.
Eyeglasses are okay but not required.
No work uniforms of any type including military.
Copied or digitally scanned photos not accepted.
Most people have digital cameras these days. You can actually create your own passport photos easier than you think. There is at least one web site that lets you upload a digital picture and create the correct size passport photo from it for free. Check it out at www.epassportphoto.com. RapidVisa is not affiliated with ePassportPhoto.com and we get nothing for rec ommending them.
It is easy enough for you the U.S. citizen to drive over to Walg reens or Rite Aid or some other pharmacy to get your photos. But for your foreign fiance an online service might be the way to go.
Disclaimer: The contents of this post were accurate to the best of our knowledge at the time of publishing. Immigration is constantly changing, and old information often becomes outdated, including procedures, timelines, prices, and more. Take note of the publish date. For archival purposes, these posts will remain published, even if new information renders them obsolete. Do not make important life decisions based on this content. No part of this post should be considered legal advice, as RapidVisa is not a law firm. This content is provided free of charge for informational purposes only. If anything herein conflicts with an official government website, the official government website shall prevail.