IMPORTANT UPDATE (APRIL 2023):  The U.S. government recently published a final rule confirming that it will increase nonimmigrant visa fees effective May 30, 2023. Among the cost changes are a 15% increase for travel, student, and exchange visas. The application fee for these non-petition-based nonimmigrant visas (except E category), will increase from $160 to $185. Other nonimmigrant visa categories will see slight jumps in cost as well. Learn more about the upcoming fee increase and the costs you can expect for each visa type here.
In the coming months, the cost to file a green card application in the U.S. could jump from the current fee of $1,760 to more than $3,500 — a drastic 130% increase. U.S. Citizenship and Immigration Services (USCIS) is also considering separate fees for the optional work and travel forms, which are currently free to file as part of the green card application.

The significant price changes for green card applicants applying from within the United States is part of USCIS' new fee structure proposal. The proposal announced this week would raise application fees for almost every visa category, with family-based and employment-based immigration seeing the largest spikes.

For family-based categories, the petition for an alien relative are set to increase from $535 to $820 and K-1 fiancé visa petitions will jump from $535 to $720. USCIS would also no longer offer reduced fees for children accompanying their parents on an application, which would dramatically increase costs for families choosing to apply together.

Another application type that would see a significant increase is the removal of conditions process — those applying to remove the conditions on their 2-year green cards would now pay $1,195, rather than the current $680 fee.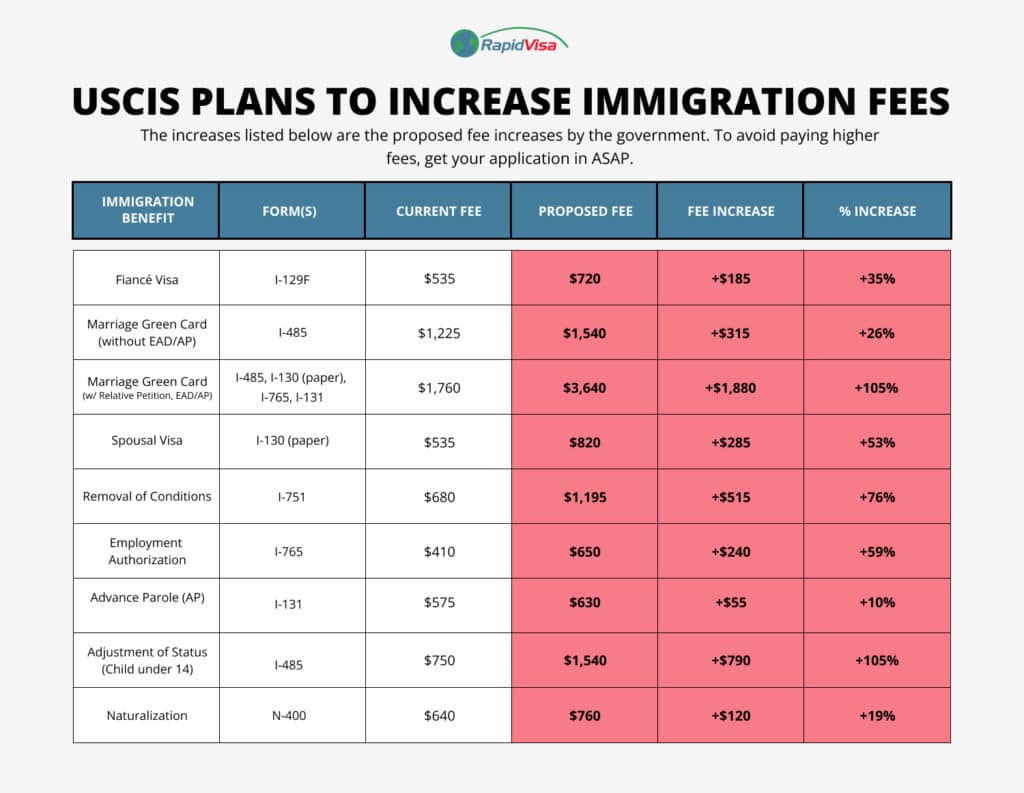 The immigration fee hike was expected in 2023, as USCIS is required to review its fee structure every two years and government filing costs have not changed since 2016. As of now, the fee increases are just a proposal and not yet in effect. USCIS must conduct a 60-day comment period to collect public feedback on the proposal before publishing a final rule and implementing any formal fee changes.

This is a rapidly developing story — stay tuned for any fee updates from RapidVisa!
Disclaimer: The contents of this post were accurate to the best of our knowledge at the time of publishing. Immigration is constantly changing, and old information often becomes outdated, including procedures, timelines, prices, and more. Take note of the publish date. For archival purposes, these posts will remain published, even if new information renders them obsolete. Do not make important life decisions based on this content. No part of this post should be considered legal advice, as RapidVisa is not a law firm. This content is provided free of charge for informational purposes only. If anything herein conflicts with an official government website, the official government website shall prevail.