Do I Need an Attorney for my K-1 Fiancée Visa?
Nearly all K-1 Fiancee Visa applications are approved if you qualify and most people don't use a lawyer. But it's helpful to use services like RapidVisa to get the forms right the first time.
Immigration Attorneys are Just So Darn Expensive!
The law does not require that you use an immigration attorney to complete K-1 petition documents such as Form I-129F. Here is what the USCIS says about this at www.USCIS.gov:
You can file USCIS forms yourself, but many people choose to have help. You may need help writing in the answers to questions on USCIS forms or translating documents into English. You can get this type of limited help from anyone.
Can I Bring a Lawyer to My Fiancee Visa Interview?
No, you can't bring a lawyer to your Fiancée Visa interview. All K-1 visa interviews are held at U.S. consulates outside the United States. These consulates do not allow lawyers in the K-1 interview.
Here is a direct quote from the U.S. embassy in Mexico:
Due to the limited size of our waiting room, the high volume of visa applicants and the time required screening consular clients, other accompanying persons cannot and will not be admitted to the Consulate. Drivers, friends, extra relatives and others not specifically named above cannot be permitted to enter and will be asked to wait to meet the applicant at the Sala de Servicios Migratorios Municipal, located next to the Consulate to meet the applicant after the interview is completed. Attorneys will NOT be permitted to accompany anyone into the waiting room or to the interview.
To confirm this for yourself just follow any of the sample U.S. Embassy links below or call the specific embassy in question.
U.S. Embassy Ciudad Juarez, Mexico
U.S. Embassy Moldova
U.S. Embassy Nuevo Laredo, Mexico
U.S. Embassy New Delhi, India
U.S. Embassy, Caracas, Venezuela
U.S. Embassy Dominican Republic
U.S. Embassy Vietnam
This is different from what happens with immigrant visas or the adjustment of status. In those cases an attorney may be allowed in the interview but they are not allowed to help you answer questions.
Attorney K-1 Interview Coaching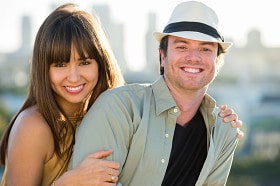 Here is what one U.S. embassy says about visa interview coaching:
Applicants who receive interview coaching by consultants should also be wary of such services. The end result is that every client from a particular consultant sounds exactly like one another. This diminishes credibility among those who memorize the "correct" answers and cannot hold free-flowing conversations with visa officers.