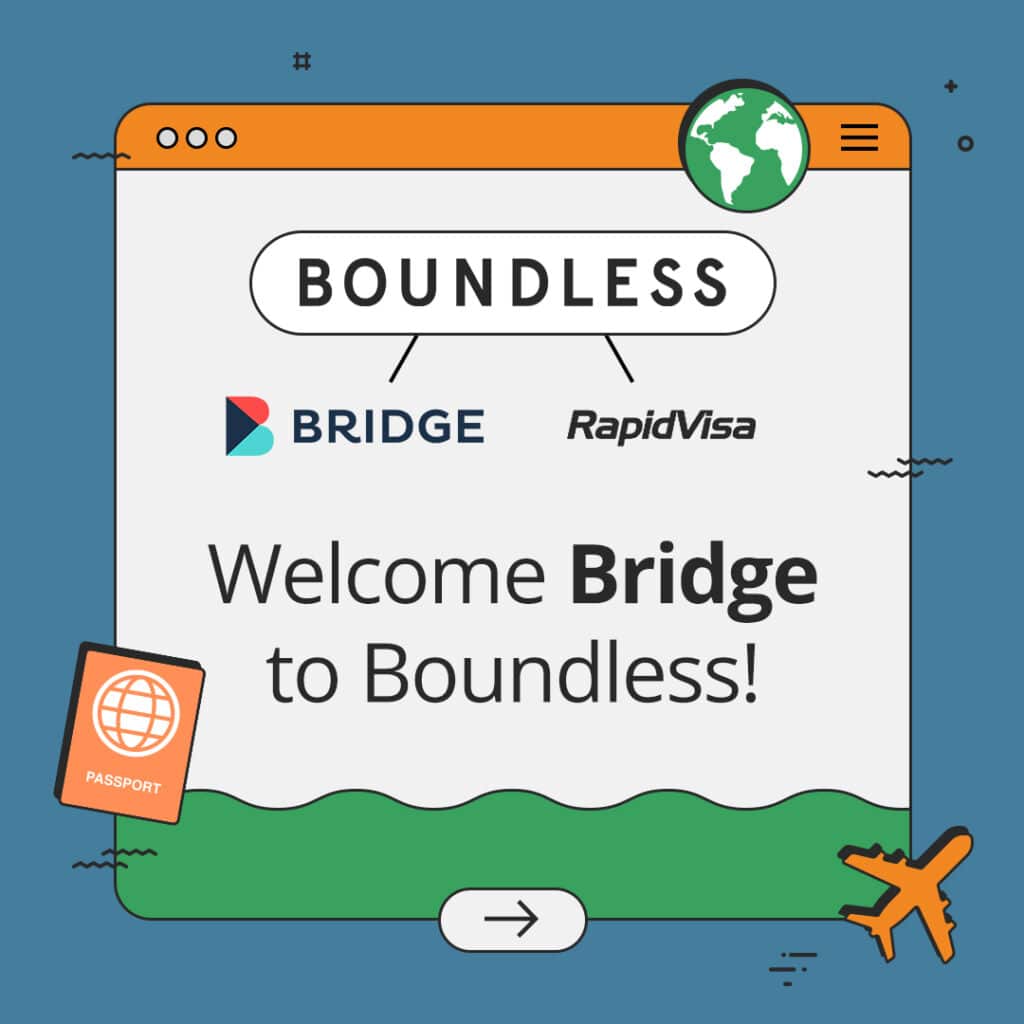 Boundless Immigration Acquires Bridge
Date: August 22, 2023
Big news! Our parent company, Boundless Immigration, just acquired Bridge. This is huge for us and the entire immigration landscape. Here's what you need to know:
Who's Bridge?
They're experts in making the U.S. immigration process easier for businesses and their global teams.
Why is this important for us?
Together, RapidVisa, Boundless, and Bridge can offer more comprehensive services. It's all about making immigration simpler and more tech-friendly for everyone - families, businesses, and individuals.
Why is this great for you?
Everything in One Place: Looking to work in the U.S. or join your family? We can help with both now. Get all your immigration needs met with us.
More Knowledge: Bridge knows work visas inside out. That means we're even better equipped to guide you.
Simplified Service: Our aim? To make your immigration process easy. With Bridge on board, can now offer our streamlined solutions to businesses and individuals interested in work visas.
What's next?
With Bridge joining Boundless, expect even better services, more expertise, and faster processes for our clients.
What does this mean for you?
Whether you're a business trying to hire from abroad, an individual navigating the visa maze, or a family seeking to be together, we're now even better equipped to help.
For more details, read the press release. We're just getting started.
Xiao Wang, CEO.
Disclaimer: The contents of this post were accurate to the best of our knowledge at the time of publishing. Immigration is constantly changing, and old information often becomes outdated, including procedures, timelines, prices, and more. Take note of the publish date. For archival purposes, these posts will remain published, even if new information renders them obsolete. Do not make important life decisions based on this content. No part of this post should be considered legal advice, as RapidVisa is not a law firm. This content is provided free of charge for informational purposes only. If anything herein conflicts with an official government website, the official government website shall prevail.