US Embassy in Manila, Philippines: New Procedures Implemented for a Consular Report of Birth Abroad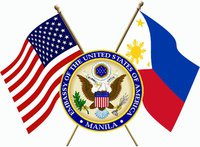 A Consular Report of Birth Abroad (CRBA), is an official record of U.S. citizenship issued to a person under age 18 who was born abroad to United States citizen parent(s) and acquired citizenship at birth. Schools, the Social Security Agency, and other institutions throughout the United States accept it and give it the same credence they give to birth certificates issued by state authorities in the United States.
Source: https://ph.usembassy.gov/u-s-citizen-services/birth/
Disclaimer: The information herein is not intended as legal advice and is provided for general information only.Questions involving interpretation of specific U.S. laws should be addressed to an attorney and/or government officials.
US Embassy in Manila, Philippines: New Procedures Implemented for a Consular Report of Birth Abroad
October 4, 2012
October 5, 2016
October 4, 2012

October 5, 2016