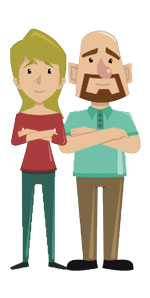 If you are not quite sure which visa you should apply for for to bring your loved one to the USA, this post should give insight to all the differences and pros and cons of each. If you are not yet married, you will want to put some thought into both options before making wedding arrangements. If you're already married, the spousal visa is your only option as the K1 fiancé visa only applies to unmarried, engaged couples.
Although we can't recommend a visa type for you, we can give you a fair comparison so you can decide what works best for you.
There are 6 basic aspects to consider when comparing the 2 paths.
1. How quickly can my fiance get here?
The visa process has several stages and different steps. We have other resources for more detail on the K-1 fiancee visa timeline and CR-1 spousal visa timeline.
The fiance visa is generally several weeks faster from the time of application to the time the visa is issued. If getting your fiance to the US as quick as possible is your only concern, the fiance visa is worth your consideration.
2. How quickly can my fiance get a green card.
The green card is required if the alien fiance wants to legally work in the US or travel abroad. If you opt for the K-1 fiance visa, your fiance will need to adjust their status, which takes another 6 to 9 months.
In the case of a CR-1 spousal visa, the green card is included, and presented upon entry to the USA.
So if your priority is being able to work and travel as quickly as possible, the spousal visa is 7 to 10 months quicker than the fiance visa.
3. What's the cost difference?
The cost of the CR-1 spousal visa is going to run several hundred to a thousand dollars more than the K-1 fiance visa… Initially.
Just remember the K-1 visa doesn't include the green card, and if you factor in the cost to adjust your status, the CR-1 is much more affordable in the big picture. Adjusting your status is going to be over $1,000 more than the initial K1 visa.
4. Which one is more likely to be approved?
If you go with RapidVisa, your likelihood of approval with either of these visas is very high. Over 99%. However, it is our experience that if the applicant comes from a region where immigration fraud is more prevalent, the fiance visa has a much higher denial rate.
It may be a safer bet to opt for the spousal visa if this is the case - Because the act of marrying usually overcomes the hurdle of proving your relationship is bona fide. Give us a call if you have any concerns that would raise your risk of a fiance visa denial.
5. Can I bring my children?
If the alien spouse has children, if they are young enough and not married, they may be eligible to come over with their parent.
On a CR-1 spousal visa, as long as you married before the child's 18'th birthday, and apply for the visa before the child's 21'st birthday, the child can accompany the alien parent on a CR-2 visa.
On a K-1 fiance visa, the child qualifies if they are unmarried and under age 21 by the day they enter the US on an accompanying K-2 visa.
6. Which way is easier?
If you want to come over on a spousal visa, you'll probably be getting married outside the US. Make sure you look at the country of marriage's requirements, laws and challenges. Check out our interactive map with information on 179 countries. Some countries are easier to get married in than others.
For example, if you are >getting married in the Philippines, there is a 10 day waiting period from the time you file your application to the time the wedding certificate is issued. This is the kind of thing you'll want to look into to make sure you plan the right amount of time in country and don't miss any country specific protocol.
Disclaimer: The contents of this post were accurate to the best of our knowledge at the time of publishing. Immigration is constantly changing, and old information often becomes outdated, including procedures, timelines, prices, and more. Take note of the publish date. For archival purposes, these posts will remain published, even if new information renders them obsolete. Do not make important life decisions based on this content. No part of this post should be considered legal advice, as RapidVisa is not a law firm. This content is provided free of charge for informational purposes only. If anything herein conflicts with an official government website, the official government website shall prevail.