USCIS Processing Times — What You Need to Know:
---
✔️ USCIS field offices reopened in February by appointment only. Find your field office here.
✔️ Embassies and consulates are prioritizing immigrant and fiancée visas at this time.
U.S. Citizenship and Immigration Services (USCIS) is facing an unprecedented backlog of nearly 2.6 million immigrant-visa applications.
🕒 Applicants are therefore experiencing longer than average wait times.
The current backlogs are a result of the coronavirus pandemic and the suspension of visa services at home and abroad. But there was already a growing backlog prior to the pandemic due to Trump-era policies and actions restricting legal immigration.
💬 RapidVisa can help you make progress on your application now.
To keep applicants better informed, USCIS is testing a new way to calculate processing times for immigration forms, including for green card and naturalization applications.
"With this method, we can post processing times that are more accurate, timely, and easier to understand," the agency wrote on its website.
USCIS will test the new method with the following major forms:
These forms will also be included in the test:
Form I-102
Form I-526
Form I-817
Form I-824
Form I-829
Form I-914
Form I-924
Form N-600
Form N-600K
What's changing?
USCIS will now post processing times as a range — the first number is the amount of time it takes to process 50% of cases, and the second number shows the time it takes to process 93% of cases.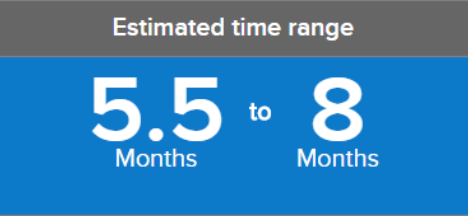 The times are based on an analysis of the complete cases for the previous month, unless the agency states otherwise.
USCIS said it would update processing times each month. For forms outside of the list above, the agency will continue to use the old method to calculate wait times.
For applicants filing applications in the future, keep in mind that processing times do fluctuate.
"We calculate processing times by using historical data of completed cases," said the agency. "We cannot project how long it will take to complete a case filed today."
How do I find the processing time for my application?
To figure out your processing time, you will need to look up online the USCIS field office or service center handling your case.
To handle the enormous volume of applications it receives, USCIS is supported by field offices across the United States, and each applicant is assigned to a field office based on their ZIP code.
Every field office receives a different number of applications, directly impacting its processing speed compared with other offices. Different USCIS offices have substantially different waiting times, especially if you compare less-populated areas with large cities such as New York or Los Angeles.
USCIS then publishes the processing wait times for each field office and updates the figures once every month.
To find the office handling your case, enter your zipcode into the USCIS search box. This will bring up the relevant field office. Importantly, for some key forms such as form I-130, form I-129 and others, a USCIS service center will handle the application.
Once you have found the field office or service center handling your application, head over to the USCIS Case Processing Time tool. In the first dropdown box select your type of application, and in the second dropdown box select the field office or service center that is handling the application.
What to do if you think you're waiting too long
Checking your case online is simple and USCIS will provide updates to it when available. But the process differs depending on whether you're applying from within or outside the United States.
Learn more here about how to check the status of your application online based on where you're applying from.
As always, there will be a wait time as processing gets underway. But how long is "too long" and how can you inquire with USCIS about your case?
First, check the processing times for the office or service center handling your application using the USCIS processing time tool. Scroll down to the bottom of the page and there will be a breakdown of the different cases handled under the form.
Choose the category that applies to you and look to the right-hand side under "Receipt date for a case inquiry." Check your confirmation paperwork from USCIS, looking for the date of receipt of your application. If you applied before this date and have not received a reply to your application, it means you can file a Case Inquiry with USCIS to find out what is happening with your application.
To get an update about a case that falls out of normal processing times, fill out the e-form on the USCIS website. This will notify USCIS and they will look into your case, coming with an answer as to why there is a delay.
This form, however, should only be filled out if your case falls before the "Receipt date for case inquiry." Contacting them while your case remains within processing times will result in a generic reply to that effect.
What does this mean for your application?
If you've already applied for an immigrant visa, check the USCIS website regularly for updates on processing times for your form. If you're thinking of applying, don't delay. Get started on your application now!