Our Money-Back Guarantee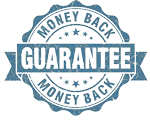 If your application is denied by U.S. Citizenship and Immigration Services (USCIS), we will refund 100% of the fees paid to Boundless (through RapidVisa) for the application that was denied. The following conditions apply:
Refund requests must be submitted within 30 days of the denial and must include a copy of the denial letter from USCIS that indicates the reason for denial.
Denial must not be because you failed to respond timely to an RFE or inquiry from USCIS.
All refunds are issued by credit card only and to the original purchaser. Refunds will be processed within 14 business days and may take an additional 3–5 business days for the credit to appear on the card.
Fees paid to the government or any third party are not refundable.
Guarantee does not apply to Tourist Visas.
As of July 1, 2018, if your country is affected by a new U.S. Government policy, law or executive order, such as Trump's Travel Ban*, our guarantee does not apply.
Our Money-Back Guarantee comes with our Premium Review Package and Payment Plan Packages. However, it does not come with our standard package, as we have no way to see what you submitted to USCIS to warrant a guarantee.
*Currently: Eritrea, Iran, Kyrgyzstan, Libya, Myanmar, Nigeria, North Korea, Somalia, Sudan, Syria, Tanzania, Venezuela (certain government officials only) and Yemen.