Passport Photo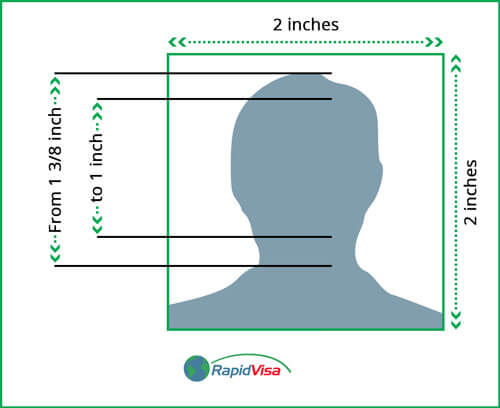 Passport photos are one of the required documents when applying passport and U.S. visas. In order to enhance the security of the application process, U.S. Department of State has strict requirements on the photo detail and quality.
Your passport photo must be taken in the last 6 months with a clear image of your face. The photo must be a color photo and meet the following requirements:
Size
The correct passport photo size is 2 x 2 inches (51 x 51 mm);
Your face must be between 1 inch and 1 3/8 inches (25mm - 35mm) from the bottom of the chin to the top of the head.
Background
The background must be plain white or off-white without shadows.
Take your photo in front of a white or off-white background instead of cropping out the background.
You must be the only person in the photo. For babies, considering placing the child in a car seat with a white blanket behind the child.
Quality
The photo must be high resolution that is not blurry, grainy, or pixelated.
The picture can not be creases, smudges or with holes.
Have someone else take your photo instead of taking a selfie.
No filter or retouching should be added to the photo.
Lighting and skin color must be accurate.
Pose and expression
Photo must be taken in a full-face view directly facing the camera.
Facial expression should be neutral with both eyes open (it is acceptable for infant eyes to be closed).
Attire
You cannot wear glasses.
You cannot sear a uniform or any clothing looks like a uniform.
You cannot wear a hat, scarf or head covering except religious reason.
Related articles: