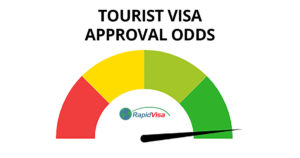 Approval Odds serve as guidelines regarding the likelihood you'll be approved for a certain visa. Everyone's background and situation is different, your odds might be different from time to time when certain factor change. Factors influencing the chances of approval depends on how strong  your evidence or situation meets the requirements from USCIS or United States Department of State (DOS), especially those are not clearly stated in the filing instructions. For example, what kind of background establish a strong tie between applicant and home country when applying B1/B2 tourist visa? What kind of evidence demonstrate a clear purpose of travel when providing supporting documents? Does age gap play a important role on K-1 Visa approval rate? RapidVisa has developed few Approval Odds Calculators based on data from our customers and statistics from government websites.
B1 B2 Visitor/Tourist Visa Odds of Approval
K1 Fiancé Visa Approval Odds Calculator
Related Articles:
What Are My Odds of Being Approved for a B1B2 Tourist Visa?
What Are My Spouse's Chances of Getting a Tourist Visa?
K1 Fiancé Visa Approval Risk Factors