Age Out
The term "Age Out" is used to describe an applicant who loses the eligibility for an immigration benefit due to aging past a certain age. To qualify as a derivative beneficiary from a parent-child relationship, USCIS requires that the child's age must be under 18 before the marriage was initiated between the principal beneficiary and sponsor, and under 21 before the date of filing.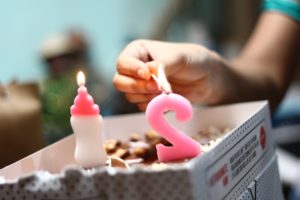 Will a K-2 child age out in a pending adjustment of status case after the child turns 21?
As long as the petition was accepted before the applicant turned 21, turning 21 with a pending application would not affect an applicant's eligibility. For example, you were 20 when your K-2 visa was approved (Parents married before you turned 18), you entered U.S. and your adjustment of status petition was submitted before you turned 21. Turning 21 while waiting for your green card will not age out your eligibility.
Can a K-2 child adjust status after the child turns 21?
To adjust status based on a K-2 visa, the beneficiary child must be under 21 at the date of admission to the U.S. In addition, the adjustment of status must be filed within 90 days of entry (before I-94 expires). What if you enter the U.S. before the age of 21 but turn 21 before filing?
The rule from USCIS on determining if the child is aged out in this situation is ambiguous. Under the BIA's 2011 order in Matter of Le, a K-2 beneficiary child still remains eligible for adjustment of status after turning 21 as long as their day of admission to the U.S. was before the age of 21. However, the decision is up to the immigration officer's discretion. It might take more time and money in this situation.
Related Articles