What is the K-1 fiancé visa?
The K-1 visa, also known as the Fiancé visa, is a non-immigrant visa that allows a foreign fiancé to enter the United States for the purpose of marrying a U.S. citizen. This visa is designed for couples who are engaged and plan to get married in the United States.
What is a K-1 visa for the Philippines?
A K-1 visa for the Philippines is pretty much the same as a regular K-1 Fiancé visa. It has the same requirements and costs. The only difference with a K-1 visa in the Philippines is that for those whose partner is currently living in the Philippines at the time of application, your partner will be required to attend the face-to-face interview at the US embassy in Manila.
In this guide, you will learn about K-1 visa processing times, fees, requirements, and the application process.
K-1 Visa Timeline
How long does it take to get a K-1 fiancé visa? The current processing time for Form I-129F ("Petition for Alien Fiancé") is 10-16 months, plus 4-6 weeks to receive an interview notice.
Factors That Can Affect Your Timeline
Originating Country
Some countries have longer processes that can be brought on by the local embassy workload, conflicts in the area, or other unexpected delays.
Requests for Evidence (RFE)
The most common delays are brought on by RFEs. The vast majority of these can be avoided if your petition is assembled professionally.
USCIS Workload
In the past, influxes of USCIS workload have affected overall timelines. This could be brought on by changes in immigration processes or policies.
Quality of Your Petition
Petitions that are easy to move through and approve tend to get approved faster.
Natural Disasters, War, Terrorism
Events such as these are out of your control and can cause unexpected delays.
K-1 Visa Cost
The cost for a K-1 visa can range from $1,200 to $5,000 including government fees, medical exam, and legal assistance.
Basic K1 Visa Cost Overview
K1 Visa Costs & Fees Breakdown
| | |
| --- | --- |
| USCIS Filing Fee - $535 | This is the fee required to get started with your petition. It goes along with Form I-129F in the initial filing of the K-1 visa petition. |
| Embassy Fee - $265 | This fee is paid towards the end of the process, payable directly to the U.S. embassy where your fiance visa interview is conducted. |
| Medical Exam - $60-$300 | This cost varies based on the country for your interview. It is paid directly to a medical facility determined by the U.S. Consulate. |
| Travel Expenses - (Varies) | The cost for the foreign fiancé to travel to the U.S. after the visa, along with any travel the sponsor does can vary from a few hundred to tens of thousands of dollars. Also consider if the foreign fiance is not from the city where the consulate interview will take place, there will be more travel. |
| Assistance - (Varies) | Lawyers can average from around $1,800 to about $3,000 for a straightforward case. RapidVisa's assistance starts at $629 and has payment plans starting at $159 per month. Other agencies charge around $800-1,400. |
Other costs you should consider are:
Postage - Getting files back and forth between you, your fiance, your agency/attorney, and the government at various steps. If your attorney or agency uses secure document transfer, it can save time and money.
Cost of Acquiring Certain Evidence - Hunting down old divorce decrees, bank statements, or birth certificates can add to the tally.
Passport - If the foreign partner doesn't already have a passport, he or she will need to acquire one.
Passport Photos - Passport photos are required for the K1 visa. Make sure the foreign partner gets them in the right size and standards.
Children - There is no extra USCIS fee if the child K2 applicant accompanies the K1 applicant, however, there will be additional embassy and medical exam fees.
Translation Service - If you need certain documents translated, and don't have a friend to do it for you, this could add to your cost.
K-1 Visa Requirements
How do you qualify for a K-1 visa? Not everyone will meet the K-1 visa requirements. You may check your eligibility with our K-1 visa eligibility calculator. Note that USCIS and consular officers are different and some countries may have additional requirements.
If you work with an immigration attorney, or a fiancé visa agency, they will carefully review your situation to verify that you meet all of the requirements.
The petitioner of a K-1 visa must:
1. Be a U.S. Citizen
The U.S. petitioner must be able to prove he or she is a U.S. citizen. Green card holders are not eligible for the K-1 visa. They are, however, eligible for a marriage green card, although the process can take up to two years or longer.
2. Be Legally Free to Marry
If the sponsor was ever married before, he or she must provide proof that any such marriage has been legally terminated through death, divorce, or annulment. This is usually proven with evidence such as a death certificate or divorce decree.
3. Intend to Marry Within 90 Days
The sponsor must convince USCIS agents and consular officers that the relationship is "bona fide", and that he or she truly intends to marry within 90 days of entry. This is to avoid fraud from scammers marrying U.S. citizens for the sole purpose of immigration.
4. Have Physically Met their Fiancé Within 2 Years
The couple must prove that they have physically met in person at least once within the last 2 years. This doesn't mean they need to know each other for 2 years, just that within the last 2 years, they have met. Skype doesn't count.
5. Meet the Income Requirement
The U.S. citizen sponsor must meet the minimum income requirements, or use alternatives to meet the requirement.
Options if you don't meet the income requirement:
Assets
You can use 1/3 of the dollar value of certain assets, such as real estate, stocks and bonds.
If you have someone willing to co-sponsor, such as a family member or friend, you can use their income.
In certain cases, you may be able to use a joint sponsor or assets in lieu of income. Please call us for specifics on your situation.
NOTE: The income requirement is one of the most common reasons for denial. You need to prove you qualify through documents like tax returns and pay stubs.
6. IMBRA Requirement
IMBRA stands for International Marriage Broker Regulation Act. K-1 visa petitioners must disclose in their petition if they have met through a marriage broker. In addition, they must provide the signed, written consent form that the international marriage broker obtained from the beneficiary authorizing the release of his or her personal contact information.
If you have been convicted of certain crimes (or attempted them), you may be disqualified for a K-1 visa as per IMBRA. You are required to disclose records of incidents such as domestic violence, sexual assault, child abuse and neglect, dating violence, elder abuse, stalking, homicide, murder, manslaughter, rape, abusive sexual contact, sexual exploitation, incest, torture, trafficking, peonage, holding hostage, involuntary servitude, slave trade, kidnapping, abduction, unlawful criminal restraint, and false imprisonment.
K-1 Visa Process
Step 1. USCIS Filing
The United States citizen sponsor files the K1 visa petition with USCIS by mailing the completed I-129F petition package along with a check to the Department of Homeland Security for $510.
Step 2. Notice of Action 1 (NOA1)
Two to three weeks after mailing your petition, you will receive a notice of action (NOA1) in the mail indicating USCIS has received your petition. You do nothing at this step.
Step 3. Notice of Action 2 (NOA2)
Usually, between 13 and 18 months after mailing your petition, you will receive a notice of action (NOA2) in the mail indicating USCIS has approved, denied or requests additional evidence for your petition. If approved, you do nothing at this step. If you are denied, there are a few options you can take. If you receive an RFE, you need to respond to it with the evidence requested.
Step 4. NVC Phase
The service center that handled your petition (either Vermont or California) forwards your case to the State Department's NVC (National Visa Center). This will happen within two weeks of your approval. The NVC will run a security check on your fiancé. You will not receive anything in the mail at this point. If you want to verify that the NVC has received your file, call them at 603-334-0700 or email them at NVCINQUIRY@state.gov. You do nothing at this step.
Step 5. NVC to Embassy
If your fiancé's security check comes back clean, your approved K1 visa petition will be routed to the Bureau of Consular Affairs. The Bureau of Consular Affairs will send your file to the U.S. Embassy in your fiancé's country via DHL. You do nothing at this step.
Step 6. Embassy Letter
After receiving your visa petition, the U.S. Embassy (usually in the country of origin) sends the fiancé a letter with instructions for scheduling the medical exam and interview. You (the U.S. citizen) do not have to attend the embassy interview.
Step 7. Gather Embassy Documents
The U.S. Embassy will instruct the fiancé to return some of the documents immediately. Other documents will be kept until the interview.
Step 8. Medical Exam
The fiancé must do a medical exam. The package sent to the fiancé by the U.S. Embassy will explain how to schedule the medical exam. You must pay a fee for the medical exam. The fee is usually paid in the local currency and varies depending on the location. You (the U.S. citizen) do nothing at this step. This fee can't be paid from the United States.
Step 9. Embassy Interview
The fiancé must attend an interview at the U.S. Embassy. All applicants must bring their passport. If children are joining on a K-2 visa, they must also attend the interview. The package sent to the fiancé by the U.S. Embassy will explain how to schedule the interview. The U.S. citizen sponsor is not required to attend the interview. However, the sponsor is allowed and encouraged to attend in some countries while other countries will not allow the U.S. citizen to attend. The $265 embassy fee is paid directly to the embassy. A consular officer will ask a series of questions to determine if the relationship is genuine.
Step 10. Visa Issued
The alien fiancé may be able to pick up the actual visa the same day. However, there will usually be a wait of up to one week. The visa will be delivered via courier. The actual K1 fiancé visa is a self-adhesive decal that is placed in the beneficiary's passport. At this point, airline tickets can be purchased for travel to the United States.
Step 11. Travel to the U.S.
The fiancé has 6 months to use the visa to enter the United States. He or she will be given a package of documents by the U.S. Embassy which he or she will surrender at the Point of Entry (POE) into the United States. The sponsor does not need to travel with the beneficiary when they travel to the United States.
Step 12. Wedding
The petitioner must marry the alien fiancé within 90 days of entry into the United States. If a wedding doesn't take place within this time, the fiancé must leave the United States. The 90 day clock starts on the date you enter the United States, which is normally stamped in your passport. The K1 visa beneficiary can only marry the person who submitted the petition. Eventually the alien must file an adjustment of status petition to receive the green card. There is no deadline for filing the AOS, and it does not need to be filed within 90 days of arrival. However, the alien will not be able to work or re-enter the United States before it is filed.
Additional Items Related to the K1 Visa Process
Children of K1 fiancé Visas (K2 Visa)
The fiancé's children who are under 21 and unmarried may be eligible for a K2 nonimmigrant visa. All that is necessary to include them during the K1 visa petition process is to include their names on the I-129F.
Working in the U.S. with a K1 fiancé Visa
After your fiancé arrives in the United States, he or she may apply for permission to work by filing Form I-765, Application for Employment Authorization. The current average processing time for the I-765 is 5.5 months.
K1 fiancé Visa and HIV/AIDS
HIV is no longer a ground of inadmissibility. This rule was changed on January 4, 2010. Applicants are no longer required to file Form I-690 if HIV infected.
Disqualifying Events
A K1 fiancé visa will be refused if the applicant:
Multiple K1 Visa Filings
If you have filed two or more K1 visa petitions in the past, you must apply for a waiver. You will also need a waiver if you have had one K1 approved within the past two years. To request a waiver, you simply write a letter stating all available facts about your previous filings. You will state that you are requesting a waiver, and attach the letter to your new fiancé visa petition.
Using a Different Type of Visa to Come to the U.S. for Marriage (not a K1 Visa)
Coming to the U.S. on a different visa (not a K1 visa) or no visa (ESTA), with the intent of getting married would usually be considered immigration fraud. This situation should be avoided. For example, you should not attempt to bring your fiancé to the U.S. on a tourist visa with the intent to get married. The penalties for immigration fraud are steep and can even result in up to 5 years in prison.
K1 Visa if Fiancé is in the United States Illegally
If your fiancé is in the United States illegally, you will not be able to get a K1 visa. If this is your situation, you should talk to an immigration attorney before you leave the United States.
K-1 Visa Checklist
1. Visiting Your fiancé
2. USCIS Filing
3. After Visa Granted
NOTE: If you are a RapidVisa customer, a more detailed, customized checklist will be generated based on your information.
K-1 Visa FAQs
What are the requirements for approval of the fiancé visa?
You must be a US citizen; fiancés of permanent residents are not eligible for the K-1 fiancé visa. You and your fiancé must be legally able to marry. You must really intend to marry within 90 days of the time your fiancé comes to the US. You must not have any disqualifying conditions such as criminal records or communicable diseases. You must have personally met your fiancé within the last two years Note: there are some exceptions such as physical disabilities or cultural prohibitions to personally meeting prior to marriage. However, these exceptions are very hard to get and most requests for an exception to these rules are denied.
What if we don't have pictures from when we met?
Pictures are great proof that you have met your fiancé in person. However, the law doesn't absolutely require them. Other things you can use as proof include passport stamps showing entry to and exit from your fiancé's country, airline boarding passes, hotel receipts and receipts of other types. You can also get affidavits from individuals who will attest to your visit. Just note that it may seem suspicious to a consulate that you traveled to a foreign country to meet the love of your life and forgot to bring a camera. You will need to over-compensate with your other evidence.
Do we qualify for a fiancé visa?
You must be a U.S. citizen to request a K-1 fiancé Visa petition. In your petition, you must show that:
1. You are a U.S. citizen
2. You and your fiancé intend to marry within 90 days of your fiancé entering the United States
3. You are both free to marry
4. You have met each other in person within two years before you file this petition.
How long does it take to complete my K-1 Visa Petition?
Using our streamlined process, you could easily complete the entire application in about an hour. However, most people find they need to do a little research to find information like your fiancé's mother's date of birth. With RapidVisa, you can answer the questions you know and then save your work and come back later when you have the missing information.
So how do I get my fiancé here?
A U.S. citizen who wishes to marry a non-U.S. citizen can help their fiancé obtain permanent residence in different ways. The fastest way to apply for a fiancé visa if your fiancé is overseas and you want to marry in the United States. This is called the K-1 visa and lets your fiancé enter the United States for 90 days so that your marriage ceremony can take place in the United States. Once you marry, your spouse can apply for permanent residence and remain in the United States while you apply to adjust her/his status. After your initial fiancé visa petition is approved, it is sent to the National Visa Center, which will process and forward it to the U.S. Embassy or consulate nearest your fiancé's foreign place of residence. The embassy or consulate will then invite him or her to an interview before issuing the actual fiancé visa.
Can my fiancé enter with a tourist visa, marry me, & adjust her status to get legal?
Entering the United States on a tourist visa with the intent of staying is visa fraud. This can and often does lead to deportation and a bar from reentering the United States. For an example of how this can go terribly wrong, read the decision of the USCIS Administrative Appeals Office below. In this case, a Philippine woman married an American and tried to enter the Untied States on a tourist visa. Not only was she unsuccessful in staying in the U.S., later when she tried to enter the U.S. the legal way, they denied her because of her previous attempt to misuse the tourist visa. She appealed and her appeal was denied. She is now barred from entering the United States.
Note however, that your fiancé can come here on a tourist visa and marry you. But she will have to leave before her tourist visa expires and apply for a spousal visa from outside the United States. It is the intent to stay that is illegal, not the marriage. A person who enters the U.S. with no intent to get married and stay who, while visiting, spontaneously decides to marry and attempt to stay may be able to do so. However, you must convince the government that this was not your intent all along.
Do you help us with the interview?
We will answer any questions you have about the interview and give you some general tips. However, you should be very wary about any service that offers to coach you on the interview process. According to the U.S. Department of State, "The end result is that every client from a particular consultant sounds exactly like one another. This diminishes credibility among those who memorize the 'correct' answers and cannot hold free-flowing conversations with the visa officers."
Can my fiancé work after she arrives on her K-1 Visa?
Yes, but she will first need to obtain an Employment Authorization Document. You apply for this document (which is actually a card, Form I-766) using form I-765 after you are married. You can't start this process until after your fiancé arrives. It typically takes about 2 months to get the EAD and she will not be able to work during that period. She will not be able to work before you are married because you can't get the EAD until you are married.
Does it matter where we get married?
It does not matter where you get married, but you must not get married before you come to the United States on your K-1 visa. Once you are in the U.S. you can get married anywhere. You do not have to get married in the state where the U.S. citizen sponsor lives.
Once my fiancé has her K-1 Visa, when should she travel to the United States?
She can travel immediately upon receiving her K-1 Visa, even on the same day. The K-1 Visa is valid for 6 months, so she needs to travel to the United States before the end of 6 months. The K-3 visa is valid for two years.
My visa was denied. Can I reapply?
Yes. If you have new information or your situation has changed you can reapply using the same process you used the first time.
Will I get my visa application fees back if I am denied?
No. All visa application fees are non-refundable.
Can we get married at the U.S. Embassy?
No, American consular officers are not permitted to perform marriages (Title 22, Code of Federal Regulations 52.1). Additionally, marriages are not allowed on embassy grounds.
How long is my K-1 Visa good for?
The K1 visa is good for 6 months and allows you to enter the United States only one time. The K1 approval from the USCIS is good for 4 months, which means the visa must be issued within 4 months of your USCIS approval. However, the consular officer can extend the USCIS approval for another 4 months and will routinely do this if it is not the applicant's fault the visa could not be issued within the 4 months. Once the fiancé arrives in the U.S., the couple must get married within 90 days. This 90 day period cannot be extended.
What does the K in K-1 Visa stand for?
The "K" doesn't actually stand for anything (not a word or phrase). K non immigrant visa applicants are a class defined by sub-paragraph (K) of section 101(a)(15) of the Immigration and Nationality Act. The "K" simply refers to the sub-paragraph of this section of the act. Most K visas are K-1's.
What do I do if something goes wrong with my case?
Most petitions go through with no problems at all. However, if you run into serious problems that require an attorney we recommend you contact an immigration attorney.
Once I have my visa, are there certain places I must enter the U.S.?
No. You can enter the United States at any U.S. port of entry. Any commercial airline flight to the U.S. will work.
What will my visa look like?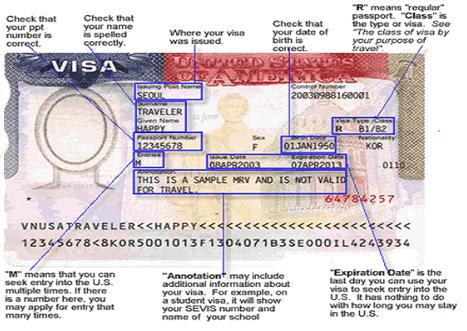 The actual visa is a decal that is attached to a page in your passport. It is about the size of one passport page.
Can my fiancé enter under the visa waiver program, marry me, & adjust her status to get legal?
Yes and No. A person admitted under the Visa Waiver Program cannot get an extension of the 90 day visit. You can marry your fiancé while she is in the U.S., but she will need to return to her country before her visa expires. You can then file for a spousal visa.
Here is an article from the New York Times from May 14, 2010, discussing a man who was jailed and faces deportation for entering the U.S. on the visa waiver program and trying to apply for a green card.
However, many people have successfully came to the U.S. on the Visa Waiver Program and adjusted their status to permanent resident after marriage to a U.S. citizen. The key point is intent. If you intend to come on the VWP and try to get a green card through marriage, you have probably committed visa fraud since your implied intent was to just vist. But a person who intends to visit but at some point after arrival decides to marry an stay may be allowed to do so.
My K-1 petition was denied. Can I appeal?
Yes. The denial letter you received will tell you how to appeal. Unless otherwise instructed, you will file your appeal on USCIS Form I-290B. You will normally have 33 days from the time you receive your denial to get your appeal to the USCIS. The appeal must be sent to the same office that denied your petition. Appeals are handled by the Administrative Appeals Unit in Washington, DC.
I entered the U.S. on a K-1 visa, but would like to marry somebody else. Is this possible?
No. You can only marry the person who petitioned you. You must leave the United States before your 90 day stay is up. Your new fiancé can then file a new K-1 petition to bring you back.
Can a person who is HIV positive get a U.S. visa?
Yes. HIV was removed as an inadmissible condition on January 4, 2010. HIV testing is no longer required in the medical exam. Although forms DS-160, DS-230 and DS-156 still ask about HIV, a person who is infected can legally answer "NO" to this question.
When will USCIS cash my check?
The USCIS will scan your check and electronically withdraw the fee from your account within 24 hours of receipt. They will destroy the original check and therefore it will not come back to you.
What happens when I enter the U.S. on my K-1 Visa?
The big envelope you were given at the interview and told not to open will be opened. Your passport will be stamped and the I-94 attached to a page of your passport. The I-94 is an important document that you will need later so make sure it never comes out of your passport. You may be asked a few questions by the immigration officer. That's it, welcome to America!
I brought my previous fiancé to the United States on a K-1 Visa, but we didn't get married and she returned to her country. Can I apply for another K-1 Visa?
You can only apply for a K-1 fiancé visa one time in a 2-year period, and only two times total. So if it has been more than 2 years you are okay. If it has been less than 2 years you will need a waiver. In this situation, it may be easier just to get married and file a spousal visa instead of hoping for a waiver that may not be granted.
You can only file two K-1 visa petitions in your lifetime without getting a waiver. In this situation it would probably be easier to get married and file a CR-1 spousal visa petition. No such limitation applies to the spousal visa.
What if I discover a mistake after I print my K-1 fiancé package?
This is where RapidVisa really shines! Errors or typos are no problem. Our program catches most mistakes as you make them. However, if you do find you have made a mistake or left something out all you do is correct the information and reprint your K-1 fiancé package. You can change, print and reprint your package as many times as you like all for the same low price.
How does the K-2 visa work to bring children over?
To qualify for a K-2 visa, an applicant must be a minor, unmarried child under 21 years of age of a qualified K-1 applicant. The U.S. citizen who filed an I-129F petition for his or her fiancé does not have to file a separate I-129F petition for the child of that fiancé. These children must, however, be listed on the I-129F petition of the fiancé.
Must children attend the embassy interview?
Yes, if they are included in the petition and seeking a K-2 visa, they must attend the interview with you. This includes newborns. They will also be required to have the medical exam.
Does the child of a K-1 recipient have to travel to the U.S. with the parent?
No. The K-2 visa holder child can travel to the U.S. up to one year after the K-1 parent.
Must my newborn baby have his eyes open in his passport photo?
Yes
What if my fiancé's country does not have a U.S. Embassy?
If your fiancé's country does not have a U.S. embassy, or if the embassy there does not issue visas, the National Visa Center will send the petition to the embassy or consulate that normally handles visas for that country. For example, if your fiancé is in Iran the petition will be handled in Turkey.
Can I get the U.S. embassy to translate documents?
No. However, you don't need any type of "official" translation. Anybody can do the translation for you.
If I leave the USA before getting married on my K-1 Visa, can I come back?
If a K-1 visa, valid for a single entry and a 6-month period, has already been used for admission into the United States and the foreign fiancé has returned abroad before getting married, the consular officer may issue a new K-1 visa, provided that the period of validity does not exceed the 90th day after the date of initial admission of the beneficiary on the original K visa and provided also that the petitioner and beneficiary still intend and are free to marry. The foreign partner's return to the United States and marriage to the sponsor must take place within 90 days from the date of the original admission into the U.S. in K-1 status. Because the K1 is a single-entry visa, you cannot leave the country and re-enter on a K1.
Can I get a K-1 fiancée Visa if we have not met in person?
Probably not. Although there are rare cases where the USCIS has granted a waiver for religious or health reasons, this almost never happens.
Meeting online does not count. You must physically meet in person and that meeting can't have been more than 24 months ago. The meeting can be anywhere in the world and doesn't have to be in your fiancée's country. So you can't use the excuse that her country is not safe. Your inability to get a passport or leave the USA will also not work as an excuse since your fiancé can simply meet you here in the USA.
You will not fool the USCIS. Many people try to come up with an excuse for not meeting. They have heard every excuse and reject nearly all of them. Unless your justification is 100% legitimate you will not succeed. And even if you do succeed in getting a waiver of the meeting requirement, you will spend thousands of dollars and it will take up to 2 years to make it happen. Don't even think about creating false evidence such as photo-shopped pictures of you with your fiancée. Many people have already tried this. Immigration fraud is a serious crime which can and does land people in jail and can get your fiancée a permanent bar from ever entering the USA. You will not think up an excuse that the USCIS has not already heard and rejected.
Under no circumstances will they accept financial hardship as a reason not to travel to see your fiancée.