September 17, 2019 - LAS VEGAS
In honor of National Citizenship Day, RapidVisa would like to recognize the naturalized immigrant men and women in the U.S. Military.
The U.S. Military has had a longstanding legacy for the diversity of its servicemembers. That diversity extends not only among all races, but also among immigrant nationalities. From October 1, 2001 through 2018, the United States naturalized 129,587 members of the U.S. Military. Historically, Military service has even been a fast track to U.S. citizenship. Thousands of soldiers have more than proven their patriotism for their adopted country by serving in the Military.
Military Naturalizations Dropped Dramatically in 2018
However, in recent years, the number of military naturalizations has been on the decline. In fact, 2018 saw the lowest number of naturalizations since 2002, which itself was abnormally low due to the aftermath of 9/11 and the enactment of the Patriot Act. Military naturalizations in 2018 were down over 43% from 2017 to 2018 (Source: USCIS).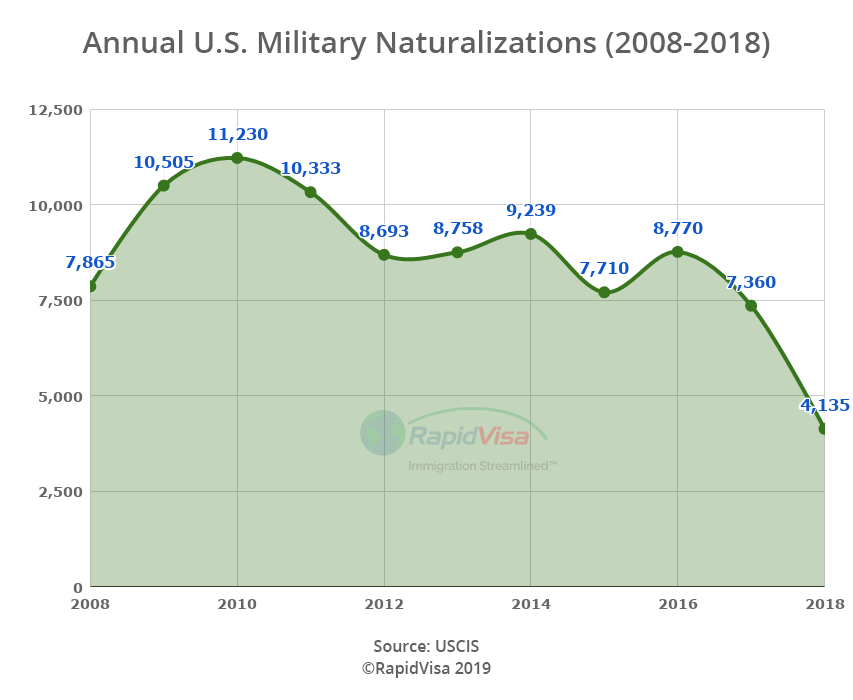 It's unclear just why there was such a decrease in naturalizations among the Military in 2018. However, it could be in part due to the fairly recent rise in anti-immigrant sentiment among some Republicans, which many members of the Military generally slant towards. Recent news of President Trump's announcement that it would be made more difficult for certain children born to U.S. servicemembers abroad to claim U.S. citizenship likely won't attract more enlistment numbers from members likely to naturalize.
Which States Do Naturalized Servicemembers Live In?
In 2017, South Carolina not only dominated the charts for the most Military naturalizations, at 626, but also the most per capita, even beating California's 421. In 2017 in South Carolina, 12.5 out of every 100,000 citizens were members of the military that gained citizenship that year. Oklahoma, which came in second, only had 6, or half that of South Carolina. Idaho, Maine, New Hampshire, South Dakota, Vermont, West Virginia and Wyoming actually had zero servicemembers naturalize that year.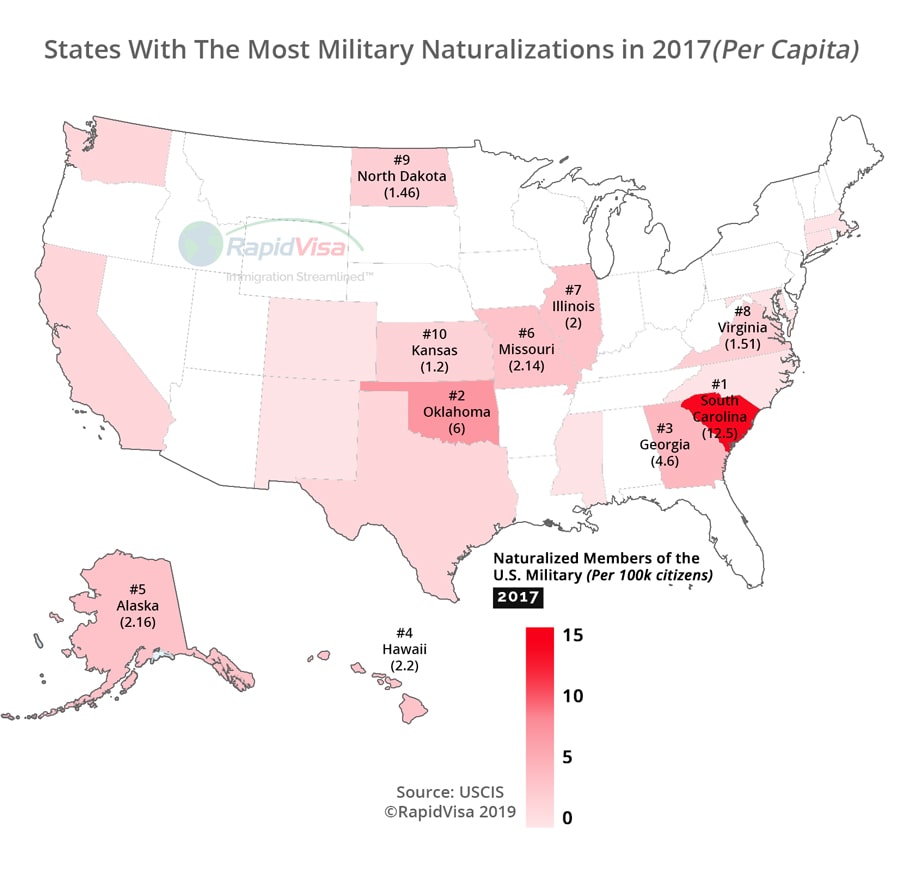 Top 10 States With The Highest Military Naturalizations Per Capita
| Rank | State | Naturalized Citizens (Per 100,000 Population in 2017) |
| --- | --- | --- |
| 1 | South Carolina | 12.5 |
| 2 | Oklahoma | 6 |
| 3 | Georgia | 4.6 |
| 4 | Hawaii | 2.2 |
| 5 | Alaska | 2.16 |
| 6 | Missouri | 2.14 |
| 7 | Illinois | 2 |
| 8 | Virginia | 1.51 |
| 9 | North Dakota | 1.46 |
| 10 | Kansas | 1.2 |
Interestingly, the top states for naturalized members of the Military do not necessarily reflect the most populous states, nor the top immigration states per capita. It should be recognized that not only have these brave men and women chose to become U.S. citizens, but they have also gone the extra step in their patriotism by putting their lives on the line for their new country and all its citizens. RapidVisa celebrates these citizens, who represent all that America can and should be, not only on National Citizenship Day, but every day.
If you are thinking about becoming a U.S. citizen, RapidVisa can help. Create your free Naturalization account today.
For press inquiries, contact Gina Yager at 702-480-8980.