All travelers with or without visa will be asked to complete an I-94 Arrival/Departure Record form before landing in the United States.  Travelers without a visa use the green form and travelers with a visa use the white from.
The bottom part of the form is perforated and will be detached by the CBP officer and stapled in your passport.  You must surrender this when you leave the United States.  If for some reason you didn't surrender the I-94 when you left the United States you could have trouble the next time you try to enter the United States.  To correct this situation after you have already left the United States you should send your I-94 to:
DHS – CBP SBU
1084 South Laurel Road
London KY 40744
USA
You can't mail or take your I-94 to a U.S. Consulate or Embassy to any other CBP Office in the United States or to any address other than the one above.  Go here to read more about what to do if you didn't surrender your Form I-94.
Starting in the summer of 2010 the I-94 is no longer required for nonimmigrant visitors traveling under the Visa Waiver Program by air or sea and who have obtained a travel authorization via the Electronic System for Travel Authorization (ESTA).  This means that if you entered under the Visa Waiver Program by air or sea you will not have an I-94 in your passport.  Form I-94 will continue to be required if you enter at a land border.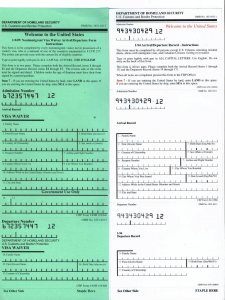 Disclaimer: The information herein is not intended as legal advice and is provided for general information only.Questions involving interpretation of specific U.S. laws should be addressed to an attorney and/or government officials.
Blog Categories
Blog Archives